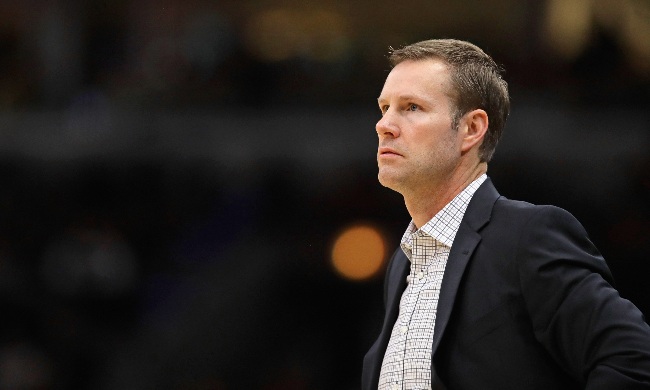 The Bulls have apparently decided they were done waiting for Fred Hoiberg to turn their team around. Shams Charania of Yahoo! Sports was first to report on Monday that the Bulls have fired Hoiberg just 24 games into his fourth season. This will come as a surprise to many because Hoiberg was never really given his own roster that he could implement his identity on until this season.
Hoiberg has constantly had to fight through awkward roster construction and injuries throughout his time in Chicago. Unsurprisingly he hasn't done much winning as a result, but teams reach a point where they expect either wins or progress in development. The Bulls must have felt that he wasn't giving them either.

In Hoiberg's place, Jim Boylen will be hired immediately. Chicago is skipping the interim title altogether and just hiring Boylen on the spot.
Boylen is getting a little bit of security with the position. He'll be able to finish out this season and his contract runs through the end of next season according to ESPN's Adrian Wojnarowski. However, without a clear indication on if he'll get a contract beyond that, this could still be a very temporary position for Boylen. Whether he gets a contract extension at the end of this season or not will likely depend on how the rest of it goes.
Coaches hate going into the season as a lame duck coach. So expect Boylen to push for a contract extension of some kind at the end of this season. He'll likely try to sell the front office on the developmental progress Chicago's front office is seeking. If Boylen can unlock something in this roster that Hoiberg wasn't able to then maybe that will be enough for him to get a more longterm contract.

The future of Hoiberg is a little murkier. Wojnarowski reported that Hoiberg would rejoin the college coaching ranks while K.C. Johnson of The Chicago Tribune reported that Hoiberg wants to stay in the NBA if he can.
That could change though depending on the future of the UCLA job. Jeff Goodman of Stadium reported that Hoiberg could have interest in the position if current Bruins head coach Steve Alford is fired.
The Bulls released this statement following Hoiberg's dismissal.
"Decisions like this one are never easy to make, however I felt this was the right choice for our organization at this time. After a thorough evaluation, I elected to make this move with the overall development of our team in mind. As a team, I believe it is imperative that we make unfaltering strides in the right direction and build the right habits to help put our players in the best position to evolve not only now, but into the future. I want to thank Fred for his dedication and efforts, as well as for his enduring commitment to our team."
Critics would say this firing is unfair to Hoiberg for many reasons. Lauri Markkanen has been injured this season. Zach Lavine was hurt through most of last season. At no point did Chicago even consider signing a defensive minded player in the offseason. The Bulls have been playing at a level that should have been expected when you consider the roster he was given. He hasn't had any time to develop the few young players he's been given. This feels early and unnecessary. Hoiberg looks like the fall man for failures in the front office.
That said, Hoiberg wasn't without his faults. While his teams weren't exactly built to play defense, the Bulls have frequently looked lost and confused on the court. It's on the coach to keep his teams organized even when the personnel isn't up for the task. His teams never did that. He didn't meet expectations and that's why he lost his job. The problem is there's no sense firing him now. Boylen is not going to fix the problems that exist on this roster. Not this season, anyway.