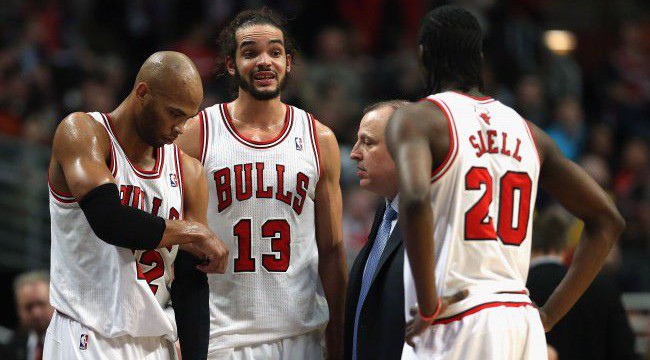 The Chicago Bulls made a deep philosophical transition in the offseason when they swapped out head coach Tom Thibodeau for Fred Hoiberg. Thibodeau's hard-nosed, defensive approach brought ample amounts of success to the Bulls, but Chicago couldn't quite get over the hump in the Eastern Conference. If Hoiberg is going to push the team into the future – and into the NBA Finals – it'll be with a fresh offensive perspective. The new-look Bulls haven't dominated their competition, but they sit respectably at third in the East.
Hoiberg has unearthed Doug McDermott and Nikola Mirotic for their shooting abilities, and rookie Bobby Portis has forced his way into the rotation with some stellar play. That leaves Hoiberg to disperse minutes among those three, as well as Pau Gasol, Joakim Noah and Taj Gibson. That's a lot of bigs in the rotation. Due to that embarrassment of riches in the post, trade rumors have begun to circulate around Gasol, Gibson and Noah.
Ric Bucher reported on Bleacher Report that the Bulls are quietly shopping three of their veteran bigs:
"The Chicago Bulls have quietly been checking interest in one of their bigs on the frontline: Taj Gibson, Joakim Noah, and even at one point, Pau Gasol. They're looking to get a young talent back. It doesn't matter if it's a defensive wing or a genuine stretch four."
Adrian Wojnarowski's shared similar thoughts from the Bulls organization on his podcast The Vertical:
"I've been told that the Bulls are open to — whether it's Joakim Noah, Taj Gibson —maybe not both of them, but either of them if there's a deal out there that they can bring in the best possible wing player available, they're open to it. That's a direction they're going to go in. They need more shooting to shape this team towards more of an offensive-minded group."
At this point, it seems clear that the Bulls are headed in a new direction. It's only a matter of time before the team starts making moves and the roster reflects that.
(Via Bleacher Report; The Vertical; h/t Blogabull)