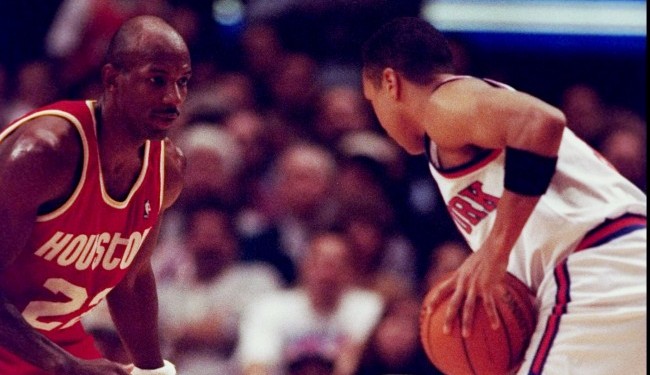 In May, TNT's Kenny Smith said that the 1994 Houston Rockets would have beaten a Michael Jordan-led Chicago Bulls in the NBA Finals even if Michael Jordan hadn't retired.
"Oh we would've beat them," Smith told the Scoop B Radio Podcast. "And actually everyone forgets he was playing the second year, he was wearing No. 45 and the team they lost to, the Orlando Magic, we swept them," Smith said. "We were that much better than them that year, [and] they lost to them."
Smith is not the only person who subscribes to this 'what if theory.' Add Smith's Rockets teammate, Clyde Drexler to that list.
"We would've beat them like they stole something," Clyde Drexler told Scoop B Radio.
Drexler teamed with his Phi Slamma Jamma (University of Houston) college teammate Hakeem Olajuwon as a member of the Houston Rockets. The Rockets would defeat Shaquille O'Neal, Penny Hardaway, and the Orlando Magic in the 1995 Finals.
"The thing is – think about it – the team that beat them with Michael," Drexler added, "was the Orlando Magic, and we swept the Magic. But I love Michael, tell him I love him, tell him I said hello."
Drexler, if you recall, played against Jordan in the 1992 NBA Finals as a member of the Portland Trail Blazers. Jordan averaged 35 points and just under five rebounds and six assists per game. Drexler's team included Terry Porter, Cliff Robinson, Danny Ainge, and the late Kevin Duckworth. Portland would lose the 1992 NBA Finals to the Bulls 4-2.
All this talk is fun, as there's not much that can be done about history that's already 20 years in the past. The Rockets will keep talking, and Jordan will keep cashing those Nike checks. The world spins round and round.