Jimmy Butler, Fred Hoiberg, and the Chicago Bulls have past the crossroads. And if their public sentiments following a team meeting are any indication, the East's most confounding team might soon be on its way to proving preseason optimism right.
After Chicago's loss to the New York Knicks on Saturday night, Butler called out Hoiberg for the rookie coach's casual approach to discipline. As the Bulls' best player told it, his team has been failing to execute game plans and play with consistent effort all season long – yet hasn't been chastised by the coaching staff in a manner that leads to effective change.
Butler's comments are certainly understandable. Chicago's play over the first two months of 2015-16 has been wildly uneven despite a solid 15-10 record, and certainly not indicative of its enviable talent level.
Growing pains were inevitable for the Bulls as they adjusted to a new coach and playing style, of course, but the attribute that plagued them most over the past couple years – a lack of ceaseless fire and engagement – was supposed to be gone. That just hasn't been the case after 25 games games, however, and Butler believes Hoiberg's laid-back demeanor has something to do with it.
It remains to be seen whether that's a fair criticism. Considering what Chicago's coach had to say following Monday morning's practice, though, it's safe to say we'll find out soon enough.
Butler not only downplayed the intent of his initial comments, but took responsibility for helping Hoiberg get the Bulls – who are 4-5 in their last nine games – out of a weeks-long rut.
Encouragement gleaned from team meetings, by the way, is hardly rare. Chicago has every incentive to sway public opinion by stressing positive takeaways from its own; frustration in the Windy City has nearly reached a boiling point.
But there's also reason to believe the Bulls have more to gain from airing grievances and clarifying misunderstandings than most teams. Despite bringing back essentially the same roster as last season, they've dealt with more internal turnover than perhaps any other squad with title aspirations.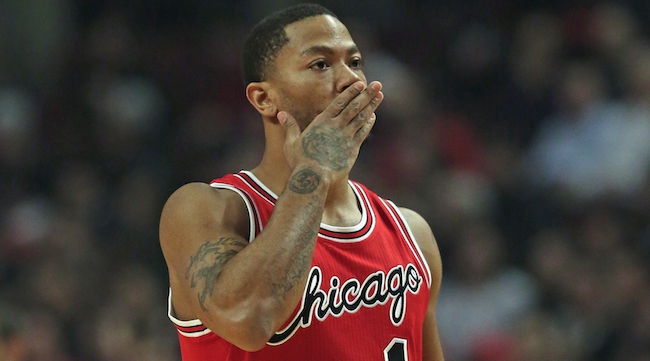 Chicago still isn't quite sure who to start alongside Gasol up front. Derrick Rose isn't close to the player he once was. Doug McDermott is getting consistent minutes for the first time in his career. Presumed starter Mike Dunleavy has been out all season with a back injury. Rookie big man Bobby Portis will soon be a regular rotation piece. The Bulls are playing a far different style of offense than they did last season. And obviously, the emotional learning curve from playing under Tom Thibodeau to Hoiberg is steep.
This team was never going to light the league on fire to begin the season. That defense has been Chicago's strong point thus far should be reassuring, too; it was there Butler and company were supposed to take a step back without the direction of basketball's foremost defensive drill sergeant.
There's still ample time for the Bulls to be great, basically. And though this group could be making its final run – Joakim Noah is a free agent this summer and Gasol has a player option for next season he'll likely decline – toward a title in 2015-16, it's not like the organization's long-term future isn't bright.
Anything more than Chicago being a thorn in the Cleveland Cavaliers' side come spring was always going to be a pleasant surprise for this season's outcome. There's still a good chance that expectation comes to pass, too.
And who knows? If this seance changes their fortunes and the injury bug bites LeBron James and company again, maybe the Bulls will emerge as the team so many thought they'd become.