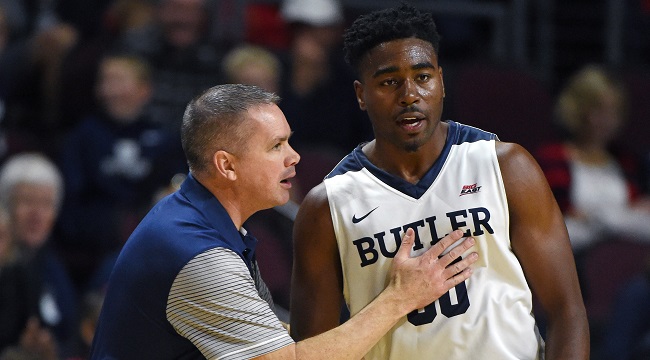 Sports teams, both at the college and professional levels, travel all over the country throughout the season, and the Butler Bulldogs are one example of that. Though Chris Holtmann's team has played only 13 games during the 2016-2017 season, those contests have occurred in places such as Nevada, Utah and New York, and that kind of schedule requires thousands of miles of plane travel. On Thursday evening, Butler's basketball team encountered what many fear when they fly that frequently, as there was a flight issue that was described as "scary."
Holtmann, in speaking to Jeff Goodman of ESPN, described the events of a flight from New York City's LaGuardia Airport that was originally bound for Indianapolis before being re-routed to Pittsburgh.
"It started to get really cold, and the plane went completely dark. Then all the oxygen masks came flying down, and the flight attendant told everyone to put the masks on. She kept repeating it.

"We had a really rapid descent. In the span of 10 or 12 minutes, we went from 35,000 feet to 10,000 feet."
The 45-year-old head coach also indicated that he personally was "shook" and that "(Butler) had guys crying" out of fear of what would transpire. Passengers on the charter flight carrying the entire team reportedly used oxygen masks for approximately 15 minutes. After landing in Pittsburgh, the Bulldogs opted to take a bus to Indianapolis, though the stated reason was not fear but rather convenience of not waiting for another appointed charter flight.
Fortunately, episodes like this seem to occur on an increasingly infrequent basis in the sports world, but that makes this no less scary for those involved. Butler's basketball team will face off against Providence on New Year's Day, and members of the squad will undoubtedly be thankful to take the court after what took place in the air.