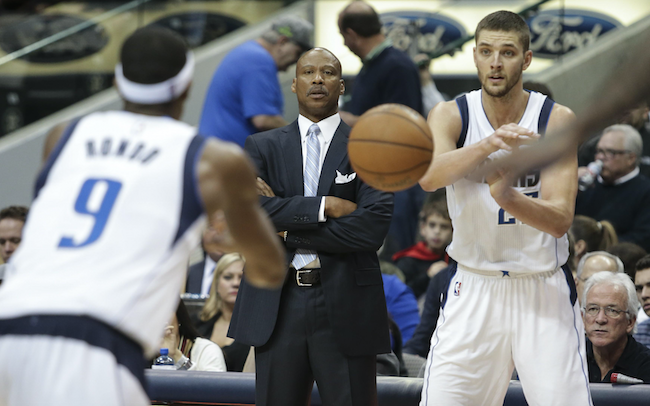 The Los Angeles Lakers don't rebuild. Instead of undergoing the arduous process of taking one step back to take two steps forward, the purple-and-gold simply reload. And as Kobe Bryant's retirement looms, Mitch Kupchak and company will do all they can to make Mamba's final games with the Lakers as memorable as possible.
A likely pair of lottery picks won't be enough – even the best rookies rarely perform like stars, and Los Angeles needs bonafide impact players to make noise in the loaded Western Conference. So the Lakers will go back to the free agency well and expect the best, just as they have the past few seasons. But cap space and optimism doesn't always yield results, even in the sunny glitz of Los Angeles. An inability to land the big fish the Lakers need over recent years is what has them scraping the bottom of the standings, in fact.
Byron Scott, though, is unfazed by his team's underwhelming July track record of late. Why? Opposing players tell him they want to sign with Los Angeles during game action, of course.
Here's a glass half-full Scott via Mike Medina of the Los Angeles Daily News:
"You have a lot of free agents out there who would love to play for us. They've been making it pretty clear," Scott said. "You have guys during the games come by the bench saying, 'Hey Coach, I would love to be in L.A. next year.' That makes you feel good there are players out there that want to be here. I think a lot of it has to do with the fact that we're taking it in a different direction. They know this organization and the history of the organization is going to be back."
We don't mean to cast doubt on Scott's claim. It's very believable that players have told him they want to be Lakers, not only because he says so but also due to the undeniable attraction of the league's most glamorous team. Despite Los Angeles' struggles since 2012-2013, the franchise remains a sleeping giant – all it needs is one or two big-name free agents to sign on the dotted line before retaking its place in the basketball hierarchy.
But we're very dubious those kinds of players have indicated a desire to ink with the Lakers this summer. The list of 2015's prospective free agents isn't an accurate representation of which stars will be a realistic target for Los Angeles or any other club.
Marc Gasol and LaMarcus Aldridge will re-sign with the Memphis Grizzlies and Portland Trail Blazers, respectively, barring a shocking turn of events. It's very unlikely the Los Angeles Clippers will let DeAndre Jordan get away, and less so that he'd leave for a different Staples Center locker room. LeBron James is a pipe dream, Kevin Love has already stated his plans to opt-out of his current and re-up with the Cleveland Cavaliers, and it's highly doubtful Pat Riley and the Miami Heat will lose Goran Dragic after paying a small ransom for him just a few weeks ago.
And before you get salty, Lakers fans, remember that Kawhi Leonard and Jimmy Butler are restricted free agents. The San Antonio and Chicago Bulls have rights of refusal, and are highly, highly unlikely to exercise them.
Just which coming free agents could Scott be referencing? We've no inside information, but the second- and third- tier types like Greg Monroe, Rajon Rondo, and Tobias Harris (a restricted free agent who the Orlando Magic might let go) seem the most viable possibilities. Will that caliber of player be enough to put 19-52 Los Angeles over the hump to contention?
Kobe Bryant will be back. Jordan Clarkson a year older. The team has high hopes for Julius Randle's (second) debut. And Kupchak's rookies should be solid. But overhauled rosters always take time to gel, and the Lakers wouldn't boast the overall talent level of established Western Conference elites anyway.
There's a silver lining here, though. If Bryant retires following next season, Los Angeles would be flush with cap space yet again – even if it uses most of the approximately $21 million the club has available this summer. Kobe's giant cap number would come off the books exactly as the salary cap takes a massive spike to somewhere in the vicinity of $90 million.
Will the Lakers' youngsters, two more heralded first-year players, July's free agent haul, and another big addition a year from then spur them to legitimacy? It's certainly possible, but that's a far-off possibility met with several mitigating factors.
One thing's for sure: Scott will preach optimism either way.