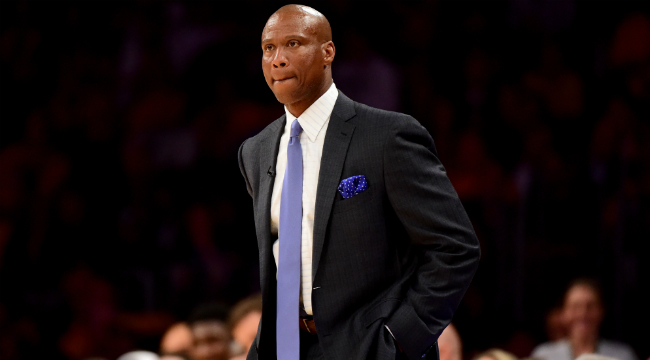 Now that Kobe Bryant has finally retired (and gone out with a bang), the Los Angeles Lakers can go about the business of rebuilding their team. They already have high draft picks from the past two years who look promising, and a little lottery luck will see them have another this year (if they fall out of the top three, it goes to the 76ers). Now's the time to start putting things together, focus on development and get a new head coach that doesn't jerk his youngsters around and teach them bad habits, right?
According to CBS Sports' Ken Berger, not so much.
Believe it or not, Byron Scott has what one source described as a "major chance" to stay with the Lakers; Jeanie Buss is said to be pushing for Scott behind the scenes. If so, it could clear the way for a top-to-bottom reset for the franchise in 2017, and the possible return of Jackson to run basketball operations with Luke Walton as the coach. There are a lot of dots to be connected to get from here to there, though — not to mention a lot more games for the Lakers to lose.
If Berger's saying what we think he's saying, it's that the Lakers want to tank for one more season (either to really build a war chest of picks, or to insure against losing this year's), and there's no better way to do that than with Byron Scott as your head coach. His contract runs through next season, so they'd save a little money, too (though that clearly isn't a concern).
Looking at it that way, it makes a certain sort of sense. The Lakers clearly won't be a playoff team next year, so why go the way of the Boston Celtics and Phoenix Suns and develop ahead of schedule but with a questionable ceiling? Well, because the other way is what got Sam Hinkie ran out of town. Even if the Lakers tank again next season, they won't do it with the same contempt as the Sixers, but they run the risk of reinforcing losing habits when their players are at their most malleable. And again, the Lakers aren't going to be that good next year anyway, barring a major free agent coup or some incredible development from the likes of D'Angelo Russell and Julius Randle.
Scott is clearly not the coach for the future of this team, and Berger's source all but confirms that the Lakers agree. If they're going to make a change, it's better to do it now so that whoever they do pick next (and we seriously doubt it will be Phil Jackson) has as much time as possible to mold the team to his or her liking.)
(Via CBS Sports)