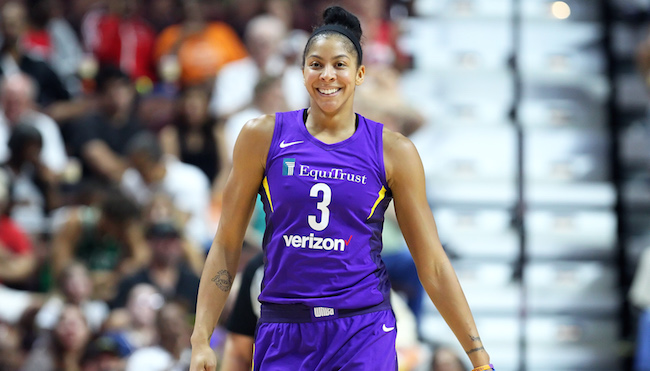 Candace Parker is among the best players in the WNBA, coming off a sixth All-Star season in her 11th season in the league last year. Parker also covers the NBA with NBA TV as the newest member of their Players Only broadcasts.
Parker was recently announced as one of six members of the Asterisk Collective, an initiative from Foot Locker and adidas that includes Patrick Mahomes, Donovan Mitchell, and Kid Cudi. Through the initiative, Parker will launch a speaker series to encourage young women to fight for equality and have an impact in the community.
We recently spoke with Parker through Foot Locker about her thoughts on the state of Los Angeles' two NBA teams, her work on Players Only, the Sparks hiring Derek Fisher, working with Kobe on post moves and footwork, the Asterisk Collective, and the importance in including women in the basketball sneaker conversation.
The Lakers are starting to come around and rattle off a nice streak of late. How have you felt the young Lakers have adapted to playing with LeBron now that we're over a quarter of the way into the season?
LeBron is such a force, so at the start of the season, everyone needed to take the time to figure out their roles. Now, you're seeing the team get into a rhythm, especially with players like Kyle Kuzma and Brandon Ingram really stepping up and carving out their own spots.

The Clippers have been hot to start the season as well. What's impressed you most about them and do you think they can be a real player in the West come playoff time?
Doc [Rivers] is a great coach and their team has both the opportunity and potential to draw in new talent to Los Angeles. While I may not see them finishing at the top of the West, they're hitting their stride with players like Avery Bradley, and I see the Clippers continuing to play good basketball.
Who are the players and teams in the NBA that are your favorites to watch right now?
Right now, I love watching the Milwaukee Bucks – they have a fun system down, especially with Giannis [Antetokounmpo].
You're on NBA TV now doing Players Only. What's that experience been like for you, because it's an interesting mix of calling a game and studio analysis all in one?
For me, it's been so fun to join the Players Only crew because broadcasting is such a great way for me to show my love and passion for the game off the court. It requires a lot of preparation, so I'm always reading the latest news, watching games and highlights and keeping up on social media.
It was just announced that Derek Fisher is going to be your new coach with the Sparks, what do you think of the hire and have you had a chance to talk with him yet?
I've known Derek [Fisher] for a long time – he knows and loves the game, and has always supported women's basketball. We're excited to welcome him to the Sparks family, and look forward to reaching our potential next season.
Last season didn't go quite as planned coming off back-to-back trips to the Finals including that title in 2016, what do you feel you all as a team need to do to make another Finals run this year?
We're using this off-season to keep finding ways to strengthen our game as individuals and as a team. We all want to start this upcoming season feeling rested, strong and prepared. I'm always looking for ways to improve and add to my game, and I've had the opportunity to continue learning from one of the greats, Kobe Bryant. I want to continue mastering my footwork to find ways to save energy and direct them into other parts of the game.

You're working with adidas and Foot Locker as part of the Asterisk Collective. What does it mean to you to be part of this group with Kid Cudi and Donovan Mitchell and Patrick Mahomes, and then tell us what you're doing through this initiative?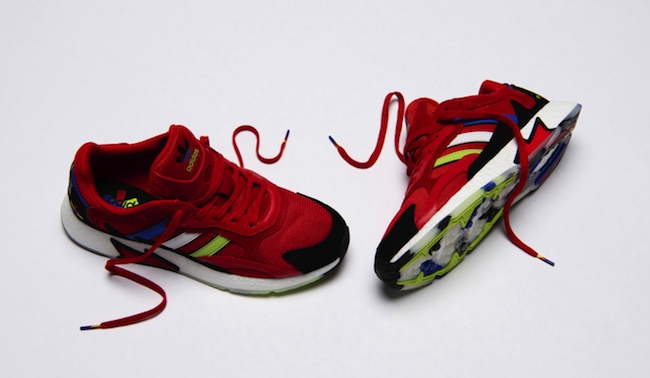 I'm excited to partner with adidas and Foot Locker on this initiative, because it provides the platform to bring attention to one of my biggest passions – leveling the playing field and inspiring young women. I want young women like my daughter and the next generation to feel empowered to accomplish anything they set their minds to, and the Asterisk Collective was created to encourage others to make impacts in their own communities.
I feel like recently basketball sneaker companies are doing more to be inclusive to women, with women's lines and girls' lines. You recently got a PE with adidas and now are part of this Asterisk Collective. How important is that for girls growing up wanting to play ball to be included in the sneaker conversation because sneakers are such a big part of basketball culture?
It's been an honor to be a part of the adidas family since my college playing days at the University of Tennessee. The brand has continued to support me both on and off the court, like the recent launch of my Pro Bounce 18 shoes and my role in the Asterisk Collective. I want the next generation of young women to experience that same level of support and encouragement. We should all hold ourselves accountable to creating an equal playing field, and for me, that's in basketball culture, sneaker style, and beyond.