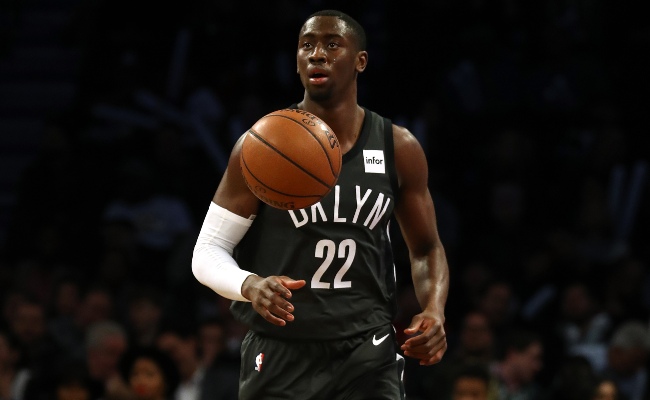 If all goes right for the Brooklyn Nets, the team won't have to turn to free agency or the trade market to get a third star alongside Kyrie Irving and Kevin Durant. That's because the team is awfully high on the future of Caris LeVert, and on Sunday night, the team celebrated his 25th birthday by making a gigantic investment in the young guard.
According to Adrian Wojnarowski of ESPN, the Nets and LeVert came to terms on a three-year contract extension worth $52.5 million, one that will begin during the 2020-21 campaign.
Brooklyn Nets guard Caris LeVert has agreed to a three-year, $52.5 million contract extension, league sources tell ESPN. LeVert turns 25 today.

— Adrian Wojnarowski (@wojespn) August 26, 2019
LeVert is eligible for his rookie extension as a member of the NBA's draft class of 2016. His new deal will begin with the 2020-'21 season. https://t.co/JN3m1lkbLK

— Adrian Wojnarowski (@wojespn) August 26, 2019
LeVert then confirmed the news with a video on his Twitter account, one in which he said that Brooklyn is "where I've always wanted to be."

The former 20th pick in the 2016 NBA Draft, LeVert has been one of the best examples of the Nets' widely-praised player development system. Despite suffering a leg injury that limited him to 40 games last season, LeVert averaged 13.7 points, 3.9 assists, and 3.8 rebounds per game. It does bear mentioning, though, that prior to going down, LeVert averaged 18.4 points per game and looked like he was on the verge of a breakout campaign.
Brooklyn is entering the 2019-20 campaign with some fairly high expectations, even if Durant likely won't play due to his rehab from an achilles injury. Irving is the main reason why, but if all goes right, getting LeVert to stick around for the next few years on this deal could end up being a steal.