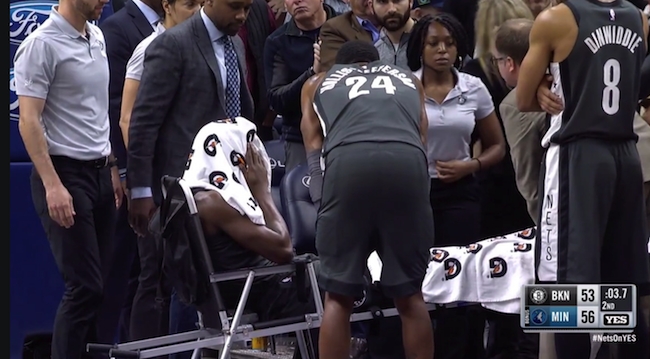 Though the Brooklyn Nets are not always in the national NBA spotlight, Caris LeVert has been enjoying the 2018-19 season. The 24-year-old guard is producing at a career-best level and, with all of the caveats that accompany a 13-game sample, LeVert appears poised for a full-fledged breakout this season.
Unfortunately, LeVert's progress may be derailed by an injury suffered late in the second quarter of Monday's game against the Miami Heat. The former Michigan standout was attempting to secure a chase-down block in the final seconds of the first half and, when he landed, LeVert appeared to suffer a brutal leg injury.
LeVert was taken from the arena on a stretcher in the immediate aftermath of the play, and you can see just from the reactions on the faces of the players around him how bad it was.

Prior to Monday's game, the former first round pick was averaging 19.0 points (on 47.7 percent shooting), 4.2 rebounds and 3.7 assists per game. While the ultimate diagnosis of the injury will be pivotal in determining his timeline for return, LeVert appears to be a key cog for the Nets and, even if he wasn't, it is always unfortunate to see an injury of this potential magnitude occur.
LeVert has been taken to the local hospital in an ambulance for evaluation.
Stay tuned for more updates as they arrive.
The video of how LeVert sustained injury can be found below. WARNING: It is extremely gruesome and for those that, understandably, do not want to watch it, any updates on his status will be added above this.