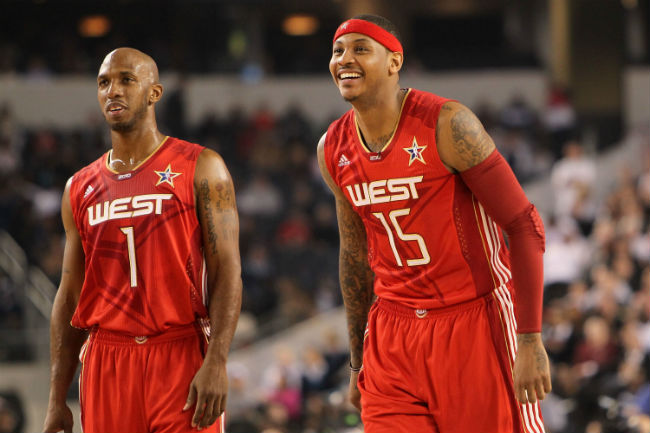 Carmelo Anthony hasn't yet found a new NBA home for the 2019-20 season. It looks increasingly unlikely that he ever will.
The 10-time All-Star played in ten games for the Houston Rockets last season before he and the team "parted ways". Despite being rumored to join another contender, Anthony's season was over before it started, and he was traded to the Bulls later in the year and summarily waived. That came after a year of being a scapegoat in Oklahoma City as the ill-fitting member of the big three with Paul George and Russell Westbrook. (There may have been other problems with the Thunder.)
NBA teams don't believe that Anthony can be a helpful player for them at this point in his career, and he hasn't done enough to prove otherwise. Chauncey Billups, his former teammate in both Denver and New York, believes that Anthony's problem is his inability to assume a secondary role, not that he lacks the skill to be a quality NBA player.

In the clip, Billups praises Anthony as a teammate, saying that he came to practice every day and didn't miss any games, which often isn't the case with some superstars. The problem was: "Scoring 30 meant too much to Melo," Billups said. "The reason why he's not in the league – because he's still worthy – is he hasn't mentally taken that step back to say 'Ok, I'll come in and play against backups. I'll try to help the team out."
Taking a step back has always been a problem for superstars. Kobe Bryant held on to his usage rate with the Lakers till his dying breath. Michael Jordan did the same in Washington. It has to be even harder for Anthony as he watches his peers like LeBron James or Chris Paul still play the same way. Even Dwyane Wade was still running the crunch-time offense for Miami during his final season.
Anthony has always been described as a professional scorer. Say what you will about the other parts of his game, but the man could get buckets with the best of them. Willingly letting go of the best part of his game, even to subsume into a team identity, has been too much of a challenge for Anthony to overcome. Although it's endearing to hear Billups speak fondly about his time with Anthony and the fact that "he's still worthy" to be an NBA player, talent alone doesn't dictate people's fortunes in this league.
Anthony's fate is a prime reminder that attitude and mentality matter when building a team. He could still be a member of an NBA roster, but his inability or unwillingness to reimagine himself as a player prevents that from happening. Unfortunately for him, Anthony will likely stay out of the league unless that changes.