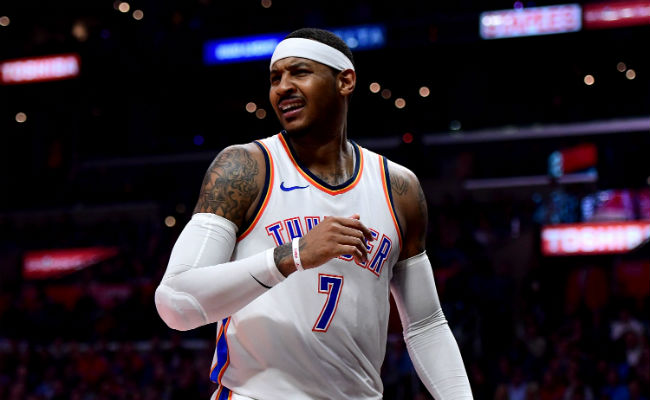 Plenty of NBA players and coaches are frustrated with officiating this season. Players say the way the game is called has changed, and the league plans to address these concerns with a meeting between all concerned parties during All-Star Weekend in Los Angeles next month.
But for Carmelo Anthony, that meeting won't help anything. As far as he's concerned, he's "done" with NBA officials after Monday night. The Oklahoma City Thunder star was critical of officials after Russell Westbrook was ejected on a drive to the basket during a 95-88 win over the Sacramento Kings.
Westbrook drove to the basket in the final minutes of the game on Monday night when he was hit in the face by rookie De'Aaron Fox. Westbrook also ran into Willie Cauley-Stein in midair, which caused him to land with the ball, then grab his face as he fell to the floor. Referee Matt Boland called Westbrook for a travel but didn't call a foul on Fox.
Westbrook stayed down for a few moments, holding his face as the call was made. He then got up and yelled something at the official, who issued a double technical foul and kicked him out of the game. A frustrated Westbrook — who was an assist away from his 15th triple-double of the season — didn't speak to the media afterward for the second straight game. And Anthony didn't want to say much, either, though he did say he's "done" with officials and how they call the game.
"I'm done with them," Anthony said on Monday night, cutting off a question about the officials according to ESPN. "I'm done with the refs. No disrespect, but I'm done with those guys."
For Anthony, the problem is that officiating has evolved in a bad way over his time in the league. And given how many people have said similar things this season, it's clear that players are not happy with where things are going: the lack of dialogue between players and refs and a propensity to T up someone more quickly than usual seems to be putting players and coaches near the breaking point.
"The game has changed a lot since I came in 15 years ago — the players and the officials had that dialogue, whether it was good or whether it was bad, there was always a point where they would let you get a little steam off, and then would come to you and say that's enough, let's move on," Anthony said last week according to ESPN. "And now, the trigger is too quick. You look at somebody wrong, you get a technical foul. You say one wrong thing, you get a technical foul."

Thunder coach Billy Donovan, who also got a technical foul called arguing about the play, did have a bit more to say after the game. He called it a "terrible mistake" and said he didn't deserve a technical foul because the official admitted he had goofed up.
"I don't, because the official made a terrible mistake, and he acknowledged it," Donovan said. "I was yelling to the other official across the floor to get his attention and the guy just T'd me up. And he came by and apologized to me, so I definitely didn't deserve a T. I know when I deserve one. I didn't get a full glimpse to see what Russell did at that moment, so I'm not going to comment for him, but I know what happened with me and that was really, really unfortunate and [the official] even acknowledged that.

"I was yelling to the other official, and he had every opportunity to say, 'Billy, wait a second, we'll get to you,' but he just turned and T'd me up. I've been doing this long enough, I know when I'm getting close to a T, or when I deserve a T — that was totally undeserved and should not have been called."
It's clearly frustrating for players and coaches to see officials miss major calls like this and know fines and other punishment is coming when you speak freely about it. For Anthony and Westbrook, the answer seems to be to just not talk about it. That's definitely safer for their wallets, but it's tough to see any real changes coming in the tension between players and officials, unless that meeting goes really well.