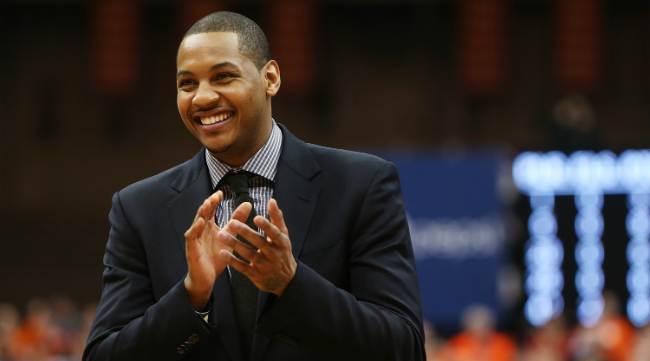 The New York Knicks are in a really weird spot. They aren't going to win a title next year, nor the year after, and they probably won't have much of a shot until 2017-18 at the absolute earliest.
This is a fine approach given the franchise's recently dire straits, but for a 31-year-old like Carmelo Anthony, it's really going to hinder his chances of ever winning a championship. This opinion is shared by Melo's college coach, Jim Boeheim, who thinks the eight-time All-Star made a mistake when he decided to sign a contract extension with the Knicks last summer.
In Boeheim's eyes, Anthony would have helped his championship aspirations if he left the Big Apple and went to another squad that wanted to bring him in – the Chicago Bulls. Here's the long-time Syracuse head coach courtesy of ESPN's Ian Begley:
"Everybody knew that [the Bulls offer a better situation]. Me saying that, everybody gets mad at me. But it's the truth," Boeheim said at Team USA minicamp in Las Vegas. "The New York Knicks owner should say that, if he was being truthful.

"But I think [Chicago] was a better situation to win. But he loves New York. I see that. I'm fine with that. There's always hope they'd turn it around. But I know some college teams that have been in last place for 30 years. Every year they hope that they're not going to be in last place."
Anthony would have been a really interesting fit in the Windy City. On one hand, he would have taken a lot of pressure off of Derrick Rose while he was trying to get back to form after a spell of knee injuries. The Bulls were also right in the middle of the league in scoring offense, so certainly could have used the offensive spark that Anthony would have provided.
At the same time, pairing a ball-dominant wing like Anthony would have hurt the development of Chicago's other star, Jimmy Butler, who led the team with 20 points per game and was third on the squad with 14 field goal attempts a night. It's probably safe to assume that he would have taken far fewer shots if Anthony was around, and he wouldn't have established himself as one of the better young wings in the NBA. Plus there are certainly questions about how Anthony – who has never had a reputation for being a great defender – would have fit in Chicago's ballyhooed defensive game plan, especially in situations where the team went small and he lined up at the four.
We'll have to wait a bit to see if Anthony's decision to return to New York was a good idea, but wondering what would have happened if the Bulls were able to sign Melo will certainly be a fun "what if?" for the next few years.
(via ESPN)