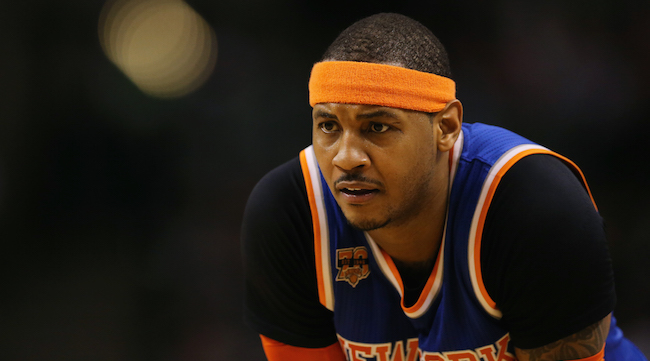 The Knicks have reached a crossroads where the franchise has to figure out if it wants to go with an all-out rebuild or keep trying to tweak things to make a return to the playoffs in the near future.
The biggest hurdle for the organization in going in the direction of a rebuild is the presence of Carmelo Anthony. The 32-year-old has an ever-closing window to get back to the playoffs and try to challenge for championships, but Anthony and the Knicks haven't been to the playoffs since 2013 and are four games out of the eighth seed currently with the season winding down. Despite there not being much hope on the near horizon for the Knicks, Anthony rebuffed the idea of leaving New York at the trade deadline, insisting he didn't want to waive his full no-trade clause.
Not only is Anthony not looking for a change of scenery, but he isn't going to embrace any efforts at tanking. Anthony was asked about putting the development of young players ahead of playing to win and the superstar forward scoffed at the concept.
"It's a terrible way to think,'' Anthony said on Friday, per the New York Post. "No player in any sports should be thinking about that. … As a player, you always disagree with that. We're the ones out there playing, trying to win basketball games. From the fans' perspective, just tank or lose games, I don't know how you do that. We're going to try to lose the game or [the last] 15, 20 games, we're going to figure out ways to lose and tank the season and start thinking about draft pieces?"
Anthony also noted that after making the playoffs in each of his first 10 seasons in the NBA, he really misses the postseason and thinks about getting back all the time.
"It's something that you sit back and think about, it's something you miss,'' Anthony said. "I miss it. It's something I've gotten used to throughout my career. Just being there, getting a shot, what can happen in the playoffs. I miss it. I miss it a lot and something I think about.''
Anthony has played all but one game this season for the Knicks and said it "would have to come from the organization,'' if they want him to sit out games to develop young players. So, for Knicks fans hoping the team falters down the stretch to improve their lottery position, they better hope the team itself is just bad enough on its own to lose games, because Anthony and others aren't planning on changing anything.