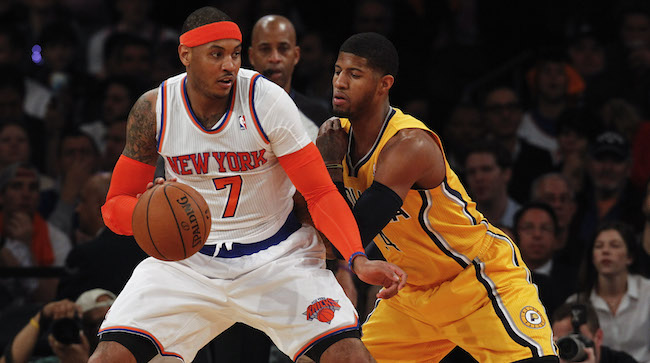 The Oklahoma City Thunder have had as active and productive an offseason as any team in the NBA, as they have stunned the entire league by making two blockbuster trades to bring in star power to help out reigning MVP Russell Westbrook.
First, they traded with Indiana for Paul George, giving them a powerful two-man combination on the perimeter, but on Saturday they pulled off another shocker by swiping Carmelo Anthony from the Knicks. That trade has Paul George thinking they could be a contender for the NBA title, and oddsmakers seem to agree.
Over at Bovada, the latest NBA title odds saw the Thunder take a major leap up the board, going from 25/1 to 12/1 due to the Carmelo trade. That puts them ahead of the Rockets and nipping at the heels of the Boston Celtics. The move is a dramatic one and is a bit surprising, but it's clear that the oddsmakers think the addition of Anthony gives Oklahoma City a trio that can truly compete with the best in the league.
The Thunder still aren't near the Warriors' level and no one would confuse them with title favorites, but it's a significant shift into the real contender level that is below Golden State.