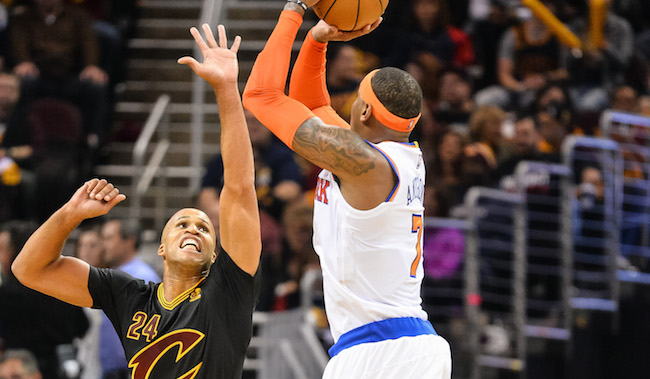 Carmelo Anthony is still a member of the New York Knicks as training camp nears, but as of Friday evening, there could be some momentum building for his escape. In fact, Anthony's list of potential teams has reportedly expanded, as Adrian Wojnarowski of ESPN brings word that the Cleveland Cavaliers are back in the mix alongside the Houston Rockets.
Anthony's preferred destination, at least in recent days, has been the Rockets, in an effort to join James Harden and Chris Paul. However, Wojnarowski's reporting also indicates that Anthony's camp has "an expectation" of a trade before the season, and it could produce tension as Monday's Media Day festivities approach.
Via ESPN:
On Anthony's part, there had been an expectation that a trade would be completed before the start of training camp. There is expected to be significant tension between Anthony and the Knicks once he reports to camp, and it is clear that could continue to be a scenario at odds with the franchise's desire to start rebuilding around a young core.
The ESPN report indicates that the Knicks requested that Anthony add "at least two more teams" to his preferred trade destination list, and given the presence of a full no-trade clause, he was under no obligation to do so. Anthony did follow that instruction, though, and that brought the Cavaliers back to the table, even as the two teams have not actually begun specific trade talks.
There is reportedly some (justified) concern about Anthony's ability to opt in to the final year of his contract in 2018-2019, especially if LeBron James elects to pull the rip cord in search of greener pastures. In addition, Cleveland's roster is not chocked full of assets that would theoretically entice New York, especially given the likelihood that the Cavs would not make the 2018 first round pick (by way of the Celtics and Nets) available in trade.
At this point, this is simply Anthony opening his mind to another destination, but the dominoes could fall quickly in this situation.
(ESPN)