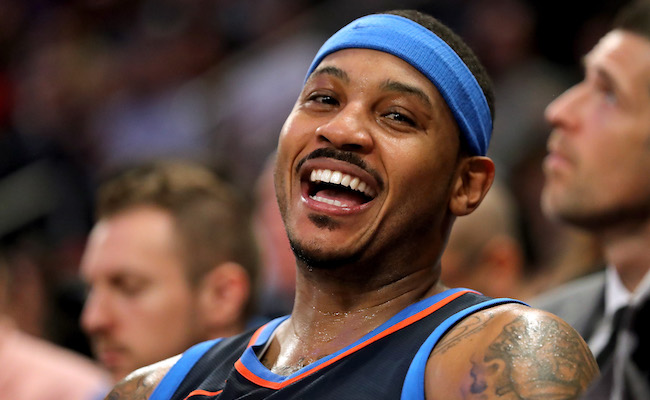 When the Oklahoma City Thunder partnered with the Atlanta Hawks on a deal involving Carmelo Anthony and Dennis Schröder, it was (very) clear that Anthony would never wear a Hawks uniform in competitive form. Despite a reported desire to come away with a Hawks jersey for sentimental reasons, Anthony's fate in Atlanta was sealed on Monday morning, as the team officially announced that the future Hall of Fame forward was placed on waivers.
That signals the end of a memorable marriage between Anthony and the Hawks, even if, well, everyone knew it would be short-lived. With that as the backdrop, Adrian Wojnarowski of ESPN brings word that Anthony gave up $2.4 million, the exact amount of the NBA veteran's minimum salary, in a buyout from Atlanta.
As noted by Wojnarowski, the widespread expectation is that Anthony will ink a minimum deal with the Houston Rockets, joining forces with James Harden, Chris Paul and Clint Capela for the upcoming season. While there is no scenario in which Anthony will be claimed on waivers, the Rockets do now have to wait until he officially clears on Wednesday and can then formally enter into an agreement with the 34-year-old on his next contract.
Throughout his career, Anthony has maximized his earning potential with blinding effectiveness and, while there was a scenario in play in which he could have made more than the $27.9 million owed to him by taking even a smaller buyout in Atlanta, Anthony will have to "settle" for nearly $28 million next season. It's a good living if you can get it. Stay #Me7o, folks.