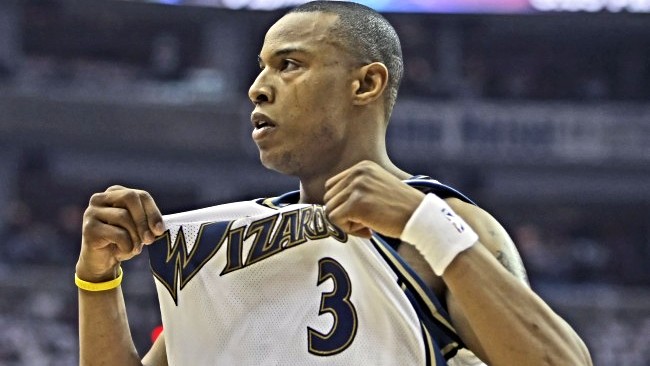 It's only been one season since Caron Butler left his 14-year NBA career behind for retirement, but the NBA champion hasn't gone very far. Butler has sharpened his chops as a sideline reporter during TNT's Player's Only broadcasts on Tuesday nights during the regular season, and has done work as an analyst for both ESPN and Fox Sports.
As the 2019 NBA playoffs shift into full gear on Saturday, Butler spoke with Dime about which Western Conference playoff team we're sleeping on, why LeBron James missing the playoffs is a dangerous thing, and how tough the transition from player to sideline reporter has been.
Dime: With Dwyane Wade and Dirk Nowtizki's retirement, along with guys like Paul Pierce and Kobe Bryant in recent years, does it feel like your era of basketball is coming to an end? And is that weird?
Caron Butler: It really is. When I go to some of the games, and I see JaVale McGee, who was my rookie, and Giannis (Antetokoumpo), who was my rookie, who is now being viewed as the best all around player in basketball. Looking at McGee, when I'm doing walk-off interviews for Turner, there's guys saying, "Alright vet!" And I'm like, "Hey, what up?" But (JaVale) is responding. It's a weird feeling, to see that come to fruition. It really is a transition.
Speaking of Giannis, what was he like as a rookie?
He was special. I didn't see this. I'd be a liar if I told you I'd seen what I'm seeing now. But what I did know was that he was going to be a guy that was going to be around 10-plus years, easily. He's a special talent. He can do so many things. He wasn't a scorer or go-to guy yet, but he possessed the ability to just have it. I don't know how to describe it. It's like having the feel, having the presence, having the high basketball IQ. He had it.
I'm just happy for him. It's a kid whose been through a ton of adversity, coming from overseas. Being in Greece, and going through that transition and finding his way here in Milwaukee. People see that he's cut from a different cloth. He doesn't buy in to the trendy things or anything like that. He's all about family, loyalty and working harder than everybody else. I'm a proud vet.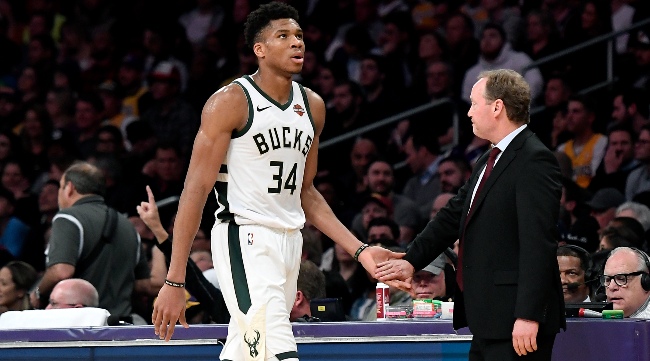 There have been plenty of stories about Giannis' crazy work ethic. Was that something he had from the beginning?
Yeah man. I recall him running around dunking barefoot on the practice courts, because he didn't have a shoe contract yet. I was a one-and-done guy with the tennis shoes. Nike would send me a boatload of signature shoes, and when I was done I used to always donate them. Some guys used to throw four or five game-used shoes in the trash. Giannis would pick them up, he'd go get them. That meant everything to him. He had that desire and hunger to just be better than everyone else, and I've seen it. You can't teach that. At the same time, he was able to keep police himself to stay dialed in to his goals and what he wants to get out of this game. That's why he's a great young player, and why he's the MVP of this season in my eyes.
What playoff team are we not talking about enough?
I'd say the Denver Nuggets. They've been so consistent, and they've played great all season long. They still have home court advantage, and that's where they play great at. Basketball is all about adjustments, but how do you adjust to an offense that's all counter-reactive?
I played in a Princeton system with myself, Gilbert Arenas and Antawn Jamison where, we were one of the highest scoring trios in all of basketball for 5-6 years. Seeing the way that (the Nuggets) play off of one another, you can't really game-plan for that. You can dial on in (Nikola Jokic), you can game-plan for (Jamal) Murray, and do all of those things, but the offense is the way that you're playing. So if you're over the top of it, or if you're in denial, they're just going to react to whatever you're doing.
Do the Celtics and Raptors need to have a good playoff showing to keep Kyrie Irving and Kawhi Leonard, respectively?
For myself, for instance, we had a situation in Washington where, we were like 3-1 over the course of the season and always outplayed the Detroit Pistons. But the Pistons were always in the ECF. And I was just like, it's all about matchups. If we're able to play and continue to be consistent and play our best basketball, we're going to eventually get over that hurdle. And those things never happened because of injuries, and the basketball gods didn't line things up for that to happen.
You see a ton of situations like that. Some guys are big picture guys and big dreamers. They're like, "You know what, we can do this, let's stay together collectively and our time will come." And some guys are trying to pivot and position themselves to expedite the process and make it happen now rather than later. So it's all about what type of person you're dealing with, and I've seen both. I was the type of guy that, if I was aligned and loyal to the process, I would like to stay and finish what we started.

How strange will it be not having LeBron in the playoffs, a guy you had a ton of postseason battles against?
It's extremely strange to not have him out there, but here's what's scary. You're gonna see LeBron at a ton of games or hear about him behind the scenes at a ton of games doing the recruiting process. You think about some of the major free agents that are out there, and how can you tell him not to come and support and be part of the brotherhood and the fraternity of the NBA? You have Kawhi Leonard, you have Kevin Durant, Klay Thompson. Draymond Green just signed to Klutch, so that's not situation of tampering. You have Anthony Davis who's free right now also to roam and do his thing. LeBron, this is going to be a huge recruiting year for him. He's also in the process of filming his movie, so he can use that as a carrot to get guys to come out and train and work. It's going to be intriguing to see what happens.
Running into LeBron every year, I was impressed by his IQ at a young age, to be able to take on so much on his shoulders. You think about that team, and a lot of people probably don't even remember another two or three members of that team that he pulled to the NBA Finals and eventually lost to the San Antonio Spurs, and Tim Duncan said, "Pretty soon you'll own this league." Sh*t, he wasn't lying about that statement.
He's a special talent, so it's going to be kind of awkward, but this is a time for somewhat of the passing of the torch. Not saying he's not going to be the best player in the game of basketball anymore, but it will be a time where you're out of sight, you're out of mind. It's going to be a three month period where guys are able to really capitalize on, "Hey, maybe I'm the best player in the game now." If KD has one of those special runs all the way through the playoffs and the Finals and they win the championship, it will be hard to say he's not the best player on the planet now.
How difficult has the transition been from player to sideline reporter?
Honestly, I didn't have a hard time transitioning. I used to always say, and this is no disrespect to anyone, but sometimes I would get interviewed and I'd be like, "What the f*ck? Why did they ask me that sh*t?" It was one of those feelings that I had. Now that I'm in that position, I just say, "What would I ask myself in this moment?" If I'm coming off the court, I'm saying, "Man, that was intense! What were you thinking on that play?" Because that's what the audience wants to know, that's what the viewers and listeners that are dialed into this game want to now.
I recall a situation where DeMarcus Cousins kept eyeballing down the court, and he kept looking at Joker because he was trying to make a statement. So I was like, "What does putting your hands over your eyes and looking off in the distance, what does that mean?" He said, "I was just looking for something." And I said, "Was that something Joker?" That's what the audience wanted to know. It's just tapping into those moments. I'm fortunate enough to have a dream job, where I'm on the sidelines doing Players Only, and hopefully I'll get to do things outside of Players Only for the network, where I'm doing big games and playoff games, because it's a passion of mine.
Lastly, what's your Finals prediction?
I'm gonna stick with the Golden State Warriors coming out of the Western Conference. The Eastern Conference is so, so tough. I would say the Toronto Raptors, and I will say the Warriors win it all.