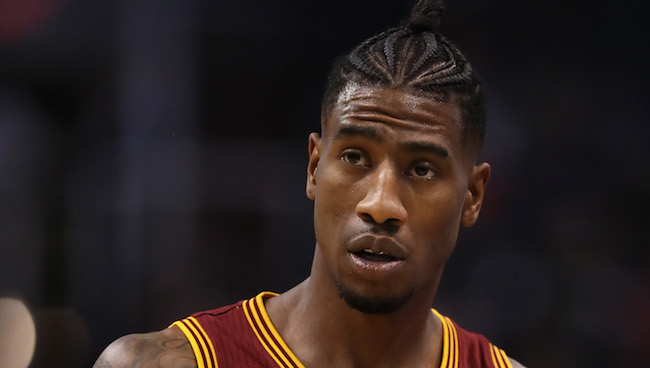 The Cleveland Cavaliers may be the defending NBA Champions, but even they know they're chasing the Golden State Warriors like the rest of the league. That understanding is clear, as the Cavs, and LeBron James, have been seeking improvements for the team as they head towards a third straight showdown with Golden State in June. The latest rumored target for the Cavs would answer James' vocal pleas for an additional playmaker and add some defense at the position where they'll need it most come June: point guard.
According to ESPN, the Cavs are targeting Houston Rockets point guard Patrick Beverley, and they're dangling Iman Shumpert out as compensation. Shumpert has seen an increased role recently with JR Smith's thumb injury keeping him out since December and has been up and down. His shooting a career high 40 percent from the 3-point line, but his defense has seemed to slip. Shumpert's inability to create off the dribble effectively has increased the necessity for another playmaker off the bench for the Cavs, as LeBron so vocally pleaded last month. Beverly would fill that void.
For the Rockets, Shumpert and his newfound three-point proficiency would fit right in with the Mike D'Antoni offense, and if he can regain his form on defense he'd help alleviate the loss of Beverley in that sense as well. With the addition of Lou Williams on Tuesday, and James Harden's role as the team's primary ball handler, they can spare a ball handler or two, especially when Harden's minutes increase in the playoffs. Beverley has operated off the ball as a shooter this season while Harden was on the floor, and as the team's primary distributor when he's off, working up a good camaraderie with bench stalwart Eric Gordon.
Still, the Rockets leaked that they aren't looking to trade Beverley — who is shooting 39% from 3-point land — but that just likely means they don't like the proposed return in a Beverly deal. Shumpert straight up for Beverlely doesn't work because of the Cavaliers cap situation, so additional pieces would need to be added to make the trade work.