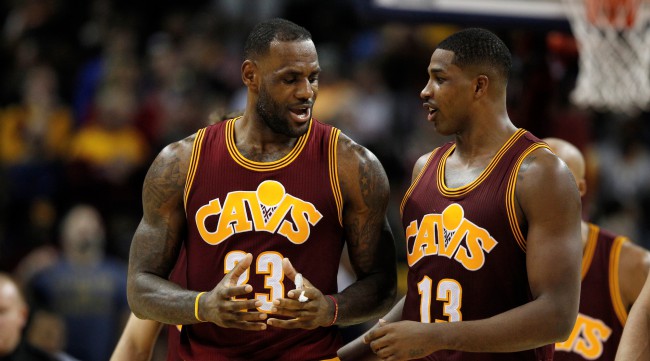 It's the playoffs. Eat or be eaten.
Cavaliers big man Tristan Thompson has chosen the former option.
Thompson told Chris Haynes of Cleveland.com that his team, heavily favored to win the Eastern Conference, had a meal together before heading into the postseason. But it wasn't just about food.
The message from LeBron James: "We're all in this together and we need to take care of business now," as Thompson told Haynes.
The reasoning from Thompson: It's like the Greeks used to do it.
More from Cleveland.com:
"If you look back at Greek mythology and even back before World War 1, every time a team would go out to battle, they'd eat first," Thompson told cleveand.com. "I think that's what it symbolizes before going out to battle. Having that last supper before it's time to go to war."
Last supper. War. Greek mythology. World War I. It really reminds you of that one time Poseidon led an army of 12 disciples to win the Battle of Verdun.
The Cavs are scheduled to tip off Game 1 against the Pistons at 3 p.m. EST Sunday. But here's the real question: If LeBron James is leading a Last Supper experience (inside an orgy of analogies from Thompson), what does that make the Pistons?
Stan Van would be the grouchiest Pontius Pilate.