The Cavs announced on Monday that there are changes coming to their uniforms for the 2017-18 season, as they will become the sixth NBA franchise to add an advertisement to the front left section of their jerseys. The Cavs will feature the Goodyear winged foot logo, as they partner with the tire company that is headquartered out of Northeast Ohio in Akron.
Now, while the winged foot logo works and actually looks pretty good as a subtle touch to the jersey without being too distracting, I can't help but feel like this was a bit of a missed opportunity to get aggressive and throw a dang blimp on the jersey. Let's see what that would loo like.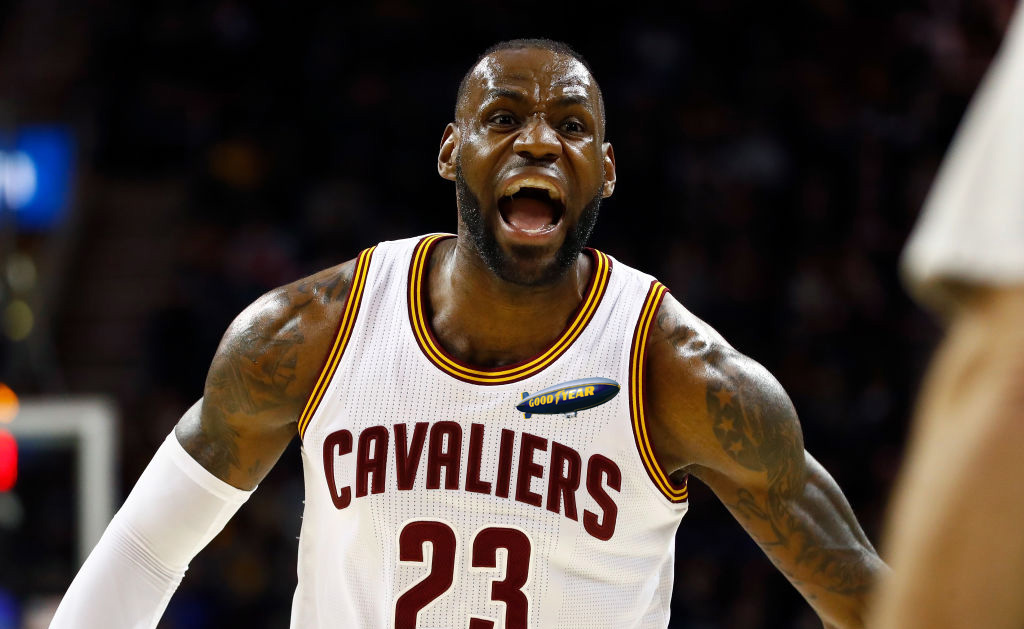 Yeah, that's the stuff. The blimp is for sure the way to go, and there's still time to make the adjustment, Cavs.
The proximity between Goodyear and the Cavs made the choice to bring them on as the lead jersey sponsor an easy one for Cleveland. Goodyear also has worked with LeBron James and his foundation in the past, which likely didn't hurt the company's standing with the Cavs when looking for endorsement deals. With Nike coming on as the NBA's jersey manufacturers next season, LeBron is very excited to have two of his corporate partners together on the Cavs jersey.
"Every Akron kid grew up seeing the Wingfoot in the sky on the blimp and feeling pride in our community," said LeBron James. "There is something special for me personally about having that logo on the Cavs uniform. Goodyear is also very supportive of the LeBron James Family Foundation. I can't imagine a better situation with our new Cavs jersey than bringing together Nike and Goodyear, two companies that mean a lot to me and my family."

LeBron is a shrewd businessman and he knows that all of this is very good for his brand, as well as Goodyear and the Cavs. Goodyear and the Cavs are also partnering to donate $1 million to Cleveland and Akron area schools to support STEM programs as part of their agreement. Cleveland now joins the Sixers (StubHub), Nets (Infor), Celtics (GE), Kings (Blue Diamond), and Jazz (Qualtrics) as the six teams with ads on their jerseys, with more expected to come.
As for how much the Cavs will get from Goodyear, the estimates are in the $5 million to $10 million range, per Bloomberg, but considering the Warriors are asking for $20 million for a jersey patch that might be a steal.