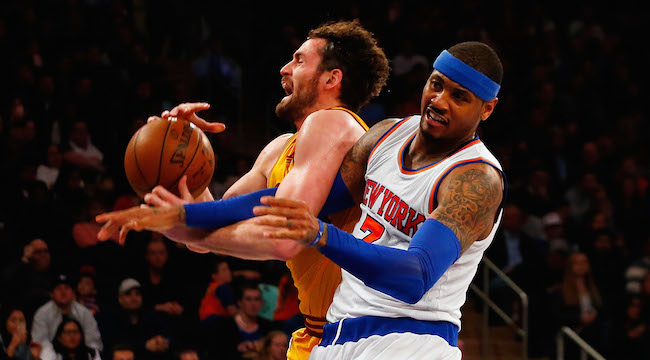 The Cavs and Knicks are caught in a stalemate right now with regards to a Carmelo Anthony trade. The Knicks remain set on shipping their star out of New York by the Feb. 23 trade deadline, and the Cavaliers have interest in bringing him to Cleveland. The problem is, the two sides can't agree on who the Cavs should be sending back to New York.
According to ESPN's Marc Stein and Ramona Shelbourne, the Knicks are locked in on wanting Kevin Love in return for Anthony, which the Cavs have already refused. This makes sense, as the Cavs have very little to offer up in future talent — either by way of what is on the roster now or in future draft picks — and the Knicks will need something good in return for their star veteran.
However, the Cavs are interested in an Anthony trade only if they can do so without giving up Love. This also makes sense from their point of view, considering as of this moment, the Cavs need to add talent to the current roster to compete for a title rather than just swap out forwards.
It's not hard to understand the desires of each side, but it's pretty clear that they're far apart on this issue. The Cavs are desperate for help, that's obvious when you see the names they're inviting in to workout, but Anthony doesn't fill their biggest need, which is an extra ball-handler and facilitator. He would certainly be a "play-maker" as LeBron requested, but the Cavs wouldn't gain a ton should they move Love in exchange for Anthony.
Meanwhile, the Knicks seem to have a desperate internal need to just get Carmelo out of Madison Square Garden, but if a rebuild is the plan, a deal with the Cavs isn't their best option. It's a strange game of cat and mouse, where neither team has an awful lot of leverage over the other. It will be interesting to see if one gets more desperate than the other by the trade deadline and becomes willing to give into the other team's demands.