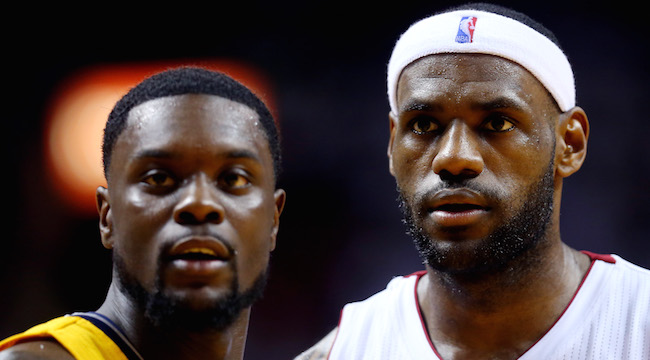 The Cavs need help. After another disappointing loss in Dallas on Monday night, the organization is scrambling to find someone, anyone that can come in and offer some assistance for the team that's gone 4-6 in their last 10 games.
LeBron James has been clamoring for another playmaker on the roster to help out with the ball-handling responsibilities that have fallen almost exclusively on himself and Kyrie Irving this season with the departure of Matthew Dellavedova this offseason. In an attempt to appease James' requests, the Cavs are now reportedly holding a free agent workout on Wednesday with a trio of players.
According to ESPN's Chris Haynes, the Cavs will host point guards Mario Chalmers and Kirk Hinrich, along with Lance Stephenson on Wednesday in hopes of landing a veteran that can provide immediate help and depth. It's a desperation attempt from the Cavs, considering neither Hinrich nor Chalmers have played this year and Stephenson was cut after playing six games with the Pelicans.
It would be especially interesting if the Cavs signed Stephenson, considering there was the whole blowing in the ear incident with LeBron James from 2014.
The need for guard and wing help behind Irving and James is clear with JR Smith still sidelined with his thumb injury. Iman Shumpert is currently starting at the two guard and Jordan McRae got the bulk of the reserve guard minutes in Dallas on Monday, playing 30 minutes and scoring 11 points.
James' request for another playmaker has received criticism, as he was a driving force behind this roster's construction, but he's also not wrong. On Monday night, James and Irving combined for 14 assists, while the rest of the team totaled three, with no player outside of the two stars having more than one dime.
James' issues are not only with the team's performance, but with people that are upset that he would voice his frustrations about the roster publicly. Most notably, James was not pleased with Charles Barkley's comments and ripped him on Monday.