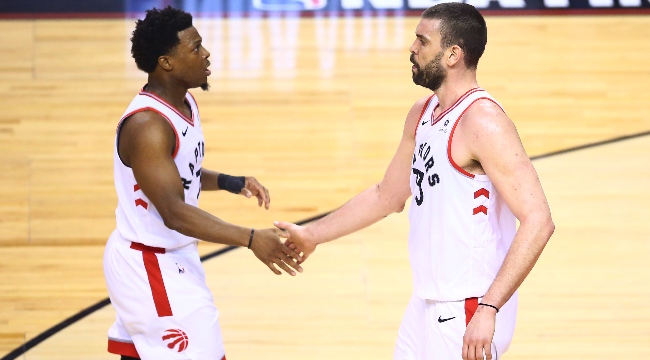 Basketball coaches love to talk about how it takes every guy on the roster to help the team win. It's a cliché, of course, designed to keep everyone engaged and morale adequately boosted. But there's something to be said for that, especially for the guys who never see the court. It's the camaraderie, the vocal support from the sidelines, the way they push the other guys in practice, and their readiness to step up when the moment calls for it that earns them their share of the heartache or triumph.
It's why, at the end of a grueling season, if your team is fortunate enough to hoist the Larry O'Brien trophy, everybody deserves to celebrate. When the Toronto Raptors toppled the Warriors in Game 6 at Oracle Arena to win the first championship in franchise history, they did it with a team filled with veterans who, though most of them had never made it this far, had fought and scratched their entire careers to finally get a chance at basketball immortality.
That's why, instead of focusing on how he didn't see the floor all that much once Nick Nurse tightened his rotation, we should all be happy for a guy like Jeremy Lin, whose career came full circle on Thursday night as he became an NBA champion against the team that gave up on him at the outset of his career.

As the first Asian-American to ever win a title, the global impact will be immeasurable, only adding to the legacy he's already established, from his magical Linsanity run to the more modest journeyman's career he's settled into the past few years, to earning his first ring with Toronto.
You don't have to look too hard to at this Raptors roster to find other guys to be happy for. Who, for instance, has earned a championship more than Marc Gasol, a guy who, purely because of loyalty, toiled away the best years of his career on a very-good-but-not-great Grizzlies team?
Unlike Lin, Gasol was a crucial member of Toronto's rotation in the postseason. He may have struggled in these Finals, but it's not a stretch to say the Raptors never would've made it to this point without him. Gasol was instrumental in slowing down both Joel Embiid and Giannis Antetokounmpo to get out of the East, and his court vision, long-range acumen, and all-around basketball savvy gave the Raptors a dimension they'd never had before.
But like Lin, Gasol carries the weight of legacy with him, not only from legions of Grizzlies fans who cheered him and the Raptors on bittersweetly throughout the playoffs, but the entire Grit-N-Grind crew who, though dispersed to the four corners of the NBA universe, are as much a part of Gasol's championship as anyone. If you needed proof, look no further than the image of Gasol in the locker room after Game 6, champagne raining down all around him, and him pausing to share the moment with long-time Grizzlies teammate Mike Conley.

Often forgotten in these instances are all the people who helped you reached that point, and no one knows that better than Kyle Lowry, who saw his best friend DeMar DeRozan traded away last summer, a sacrifice that ultimately made all of this possible. Lowry had to reckon with the fact that it was the right move for the organization, and he did so with all the poise and professionalism you could ask for out of a player who felted wronged and deceived by upper management.
And that isn't all Lowry has had to overcome. He's suffered through years of being pushed around by LeBron in the postseason, years of legitimate questions about whether he was good enough when it mattered most. All of that has been put to rest now.
Lowry was incredible in this series, and in the series leading up to it, and there should be no asterisk next to this title. The Warriors may have run the wheels off the car by the time the Finals rolled around, but it was just another testament to the fact that no championship is ever easy, regardless of the circumstances. It took six grueling games to finally knock off even a badly-depleted Warriors team, and even that was in doubt right up until the last fraction of a second at the end of Game 6.
There are plenty of other undersung heroes who deserve a shout as well, even if they don't necessarily have years of professional experience under their belt. The mind goes to a player like the undrafted Fred VanVleet, who unwittingly siphoned off the vote that would've given Kawhi a unanimous Finals MVP; or Pascal Siakam, who only picked up a basketball a few years ago and turned into a devastating two-way force for the Raptors; or Serge Ibaka, who's taken a long and winding road back to the Finals since his early days with the Thunder, accepting a reduced role once Gasol came to town en route to his first ring.
If it was often hard to root for this version of the Warriors, who sometimes felt emblematic of everything perceived to be wrong with the NBA — the lack of parity, the teaming up of superstars, a general air of entitlement — then these Raptors are the inverse of that, a collection of lovable misfits who, as the saying goes, had to be both very good and a little bit lucky to get where they are today.