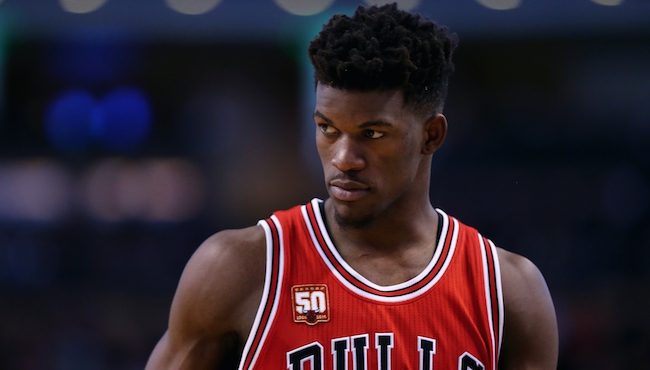 With DeMarcus Cousins now in New Orleans, the biggest star reportedly on the trading block is Bulls swingman Jimmy Butler, who has been linked to trade rumors for the better part of two months. The team considered the favorite to land Butler – if anyone makes a move for him at all – is Boston, which has the assets to entice the Bulls into trading their superstar and kickstarting a rebuilding effort through the draft.
However, the Bulls are reportedly not satisfied with simply getting draft picks in return for Butler, of which the Celtics potentially have six first round picks in the next three drafts, including what could be the top pick in this year's draft via the Nets. The Bulls reportedly want some current pieces to build around too, and that's holding up a potential deal.
According to NBA.com's David Aldridge, the Celtics insist on keeping Jae Crowder and their desires to keep the versatile (and cheap) wing is the biggest speed bump to a possible trade. Aldridge went on NBATV on Wednesday to detail the latest in the talks between the Celtics and Bulls.

Aldridge notes that it's understandable why both sides are pushing for what they are at this stage. The Celtics see a Butler addition as an opportunity to compete with the Cavs this year in the Eastern Conference Playoffs, but know the importance of having depth on the wing and a versatile defensive presence like Crowder come playoff time.
As for the Bulls, they don't want to give up their best player without getting someone to fill that gap for the immediate future in return.
Butler is the most intriguing player that appears to be legitimately on the trade block (Adrian Wojnarowski reports the Pacers are in the exploratory phase of finding out Paul George's trade value, but no real discussions have happened) and for the Celtics, Butler could be the piece that puts them on the level of the Cavs in the East. This has the feel of the kind of trade talk that will last all the way up to the trade deadline, as both teams play the NBA's version of chicken in hopes the other caves and concedes the Crowder prize to the other.
(h/t CBS Sports)