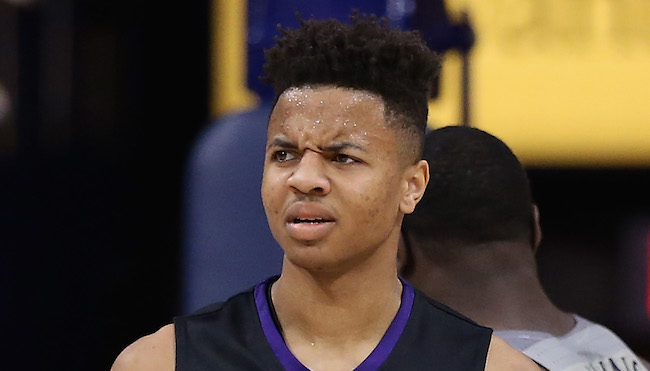 It didn't take long for the NBA Draft to take center stage and stop everyone's arguments over the Warriors being a super team and trying to figure out where they rank among the all time great title winning teams. On Saturday night, the Celtics and Sixers agreed to a blockbuster deal that sends the No. 1 overall pick to Philadelphia for the No. 3 overall pick and either the 2018 Lakers pick or the 2019 Kings pick that Philly owns, depending on protections (you can read about those here).
By landing the No. 1 pick, the Sixers assure themselves of landing Washington point guard Markelle Fultz on June 22, creating an incredible young core group of Fultz, Ben Simmons, Dario Saric, and Joel Embiid that seems poised to grow into a force together. The move is a bit more puzzling for the Celtics than the Sixers, but they land another high lottery pick (likely) in the Lakers or Kings pick in the future and, considering they already have Isaiah Thomas, no longer have to worry about taking a point guard and making him fit.
The move opens the Celtics up to select a wing player like Josh Jackson or Jayson Tatum at No. 3, who better fits their needs should they stay in the draft. The move also gives them more picks for another potential trade, which many assume is coming next. However, the reasoning behind the trade seems a bit flawed. If you wanted to trade for a Jimmy Butler or Paul George, the top pick was more valuable than No. 3 and a future pick of unknown value, and their reasons for not wanting Markelle Fultz should they have kept the pick seem flawed as well.

The Celtics reportedly had two concerns about drafting Fultz. One was his fit with the team. However, it wasn't a concern of just being behind or next to Isaiah Thomas, but how he might take away time from the rest of their backcourt.
Avery Bradley and Marcus Smart are very nice, starting quality role players, but to pass up on what many believe is a dominant talent with All-Star level potential because you don't want to disrupt what you have with Smart and Bradley seems a bit silly. The other concern about Fultz was one we had heard from anonymous scouts in the past about him not being a "winner."

This is a concern that stems from Fultz's Washington team struggling last year, but the general consensus from the scouts that had raised this issue was that going to Boston, a team that is already winning, would be the best place for him to teach him those qualities. We'll have to see what Boston does next, because all reports point to more wheeling and dealing coming from Danny Ainge, but the reasoning coming out for not wanting Fultz seems a bit strange.
There was a report from ESPN's Chad Ford last week that Josh Jackson from Kansas was a legitimate contender for the No. 1 pick, so it's possible that the Celtics like Jackson more than Fultz and it was worth dropping to third to get extra value for the guy they already wanted. Most assume another move is coming from the Celtics, and if this results in the Jimmy Butler acquisition they couldn't commit to at the trade deadline, then Celtics fans might be back on board. In the meantime, this seems like a curious decision and if Fultz becomes what so many believe he can be, Ainge will feel added pressure down the road.