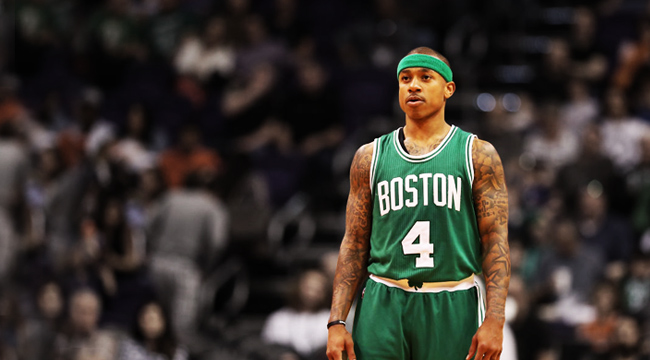 Kelly Olynyk enjoyed the best game of his NBA career, Isaiah Thomas was (predictably) awesome, and the Boston Celtics advanced to the Eastern Conference Finals in a thrilling Game 7 win over the Washington Wizards. In some ways, it was a fitting way to claim victory, as the Celtics are known for their balance and depth, whereas the visiting Wizards (and, especially, John Wall) appeared to run out of gas as a result of their woeful bench and over-deployment.
With that said, Boston's path to victory does very little to inspire belief that they – even as the No. 1 seed – will be able to pull off the upset victory over LeBron James and the Cleveland Cavaliers. Yes, the Celtics will hold homecourt advantage in the series (and that helps), but as a matter of analysis, it becomes very difficult to unearth defined advantages for Brad Stevens' team.
To begin, the Cavs have LeBron and the Celtics don't. Boston does have a few options, led by Jae Crowder, to throw at the best player in the world, but they don't have a single elite defender at the position and Jaylen Brown just isn't there yet as an ace in the hole. Keeping LeBron from scoring isn't always the battle, but in the same breath, not allowing James to get wherever he wants on the floor will be paramount. That's not a given in any way.
Offensively, the Celtics are inextricably tied to three-point shooting and that could actually be an advantage in this series. Cleveland's propensity to launch from beyond the arc is well documented and, if combined with a lights-out shooting effort from Boston, the Cavs could give a game (or two) away by clanging regularly from deep. Unfortunately, Boston's offensive game plan revolves fully around Isaiah Thomas and that could be an issue as the playoffs continue.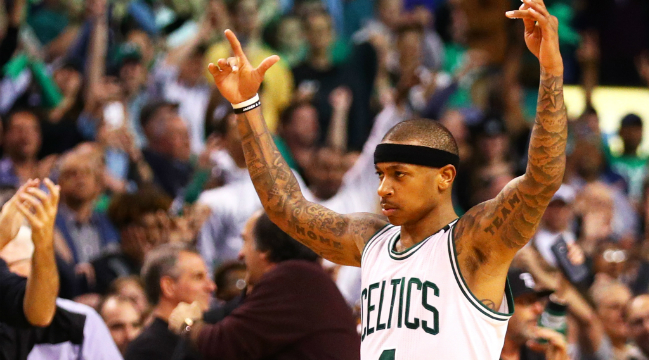 Thomas almost certainly earned All-NBA status on the strength of a tremendous offensive performance from wire to wire this season and he was awesome in Game 7 against Washington. In fact, the diminutive point guard can absolutely torch his direct opponent (Kyrie Irving) on one end of the floor in the ECF, though it has to be noted that Irving likely won't see a steady diet of Thomas defensively.
The X-factor, as always, is the looming possibility that James could ask for the defensive match-up against Thomas in key moments but, even beyond that, Iman Shumpert, J.R. Smith, and others could be solely focused on stopping Boston's lead guard at times.
Speaking of Irving, it is certain that Cleveland deploys three of the best five players in the series and it could be argued have an even stronger matchup depending on how you feel about Kevin Love. Love will deploy the "revenge" factor as he faces off against Olynyk for the first time in the postseason since the fateful injury that cost him two years ago and, at the very worst, he will be an intriguing piece for the Cavaliers in something of a supporting role.
There's also something intriguing about Irving entering the series as the "other" point guard in the series given the way that Thomas has played. The now-veteran – who hit a pretty memorable shot last year during the Finals – has plenty of playoff mileage under his belt and nothing approaching a lack of confidence for this moment, and he tends to play better when faced off against guards who get the "best PG" tag thrown at them.
An additional looming factor stems from Boston's "other" star player in Al Horford. The former Atlanta Hawks big man has been tremendous in the postseason, shedding the (unfair) label that he shrinks in big moments while averaging 16.1 points (including 58 percent from three), 7.5 rebounds, and 5.8 assists per game. With that said, Horford's Kryptonite has always been Tristan Thompson, LeBron James, and the Cavaliers and it is hard to see a scenario in which that corrects to the point that the Celtics need in this series.
The 30-year-old big man did seem to have a light bulb illuminate during the playoffs with regard to offensive aggressiveness, and perhaps that will translate. What will be a big problem, though, is if his rebounding impotence rears its ugly head and a repeat of the past two postseason flameouts in Atlanta reemerges.
There are ways to believe in the Celtics in the upcoming series, ranging from the possibility that Thomas puts his team on his back for a game to the potential coaching edge from Brad Stevens over Tyronn Lue. Still, it would be borderline criminal to suggest that the No. 1 seed has anything more than a puncher's chance to extend this series to the point of real concern for Cleveland. The match-ups simply don't dictate a ton of advantages for the Celtics.
Even if everything fits perfectly into place for a deep, talented, well-coached bunch, LeBron James is still wearing the other team's uniform.