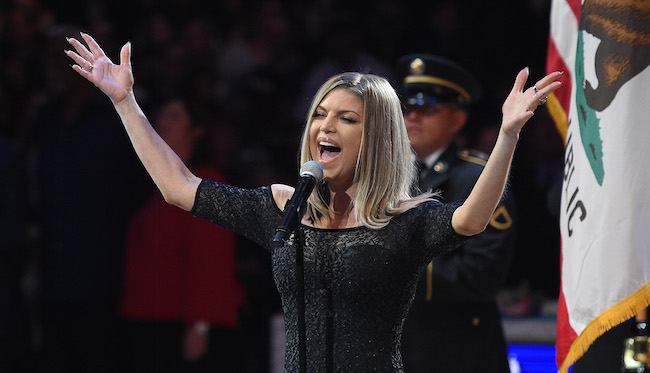 The first half of the 2018 NBA All-Star Game was what we've come to expect from the All-Star Game, with tons of threes, dunks, highlights and overall sloppy play. However, what preceded tip-off was something we've not really ever seen.
Fergie was tapped to perform the national anthem and she certainly put her own spin on the performance with a bizarre rendition that drew audible laughter at times from the crowd and Draymond Green while he was shown on the Jumbotron, but culminated in a rousing round of applause.
The reviews on Twitter were equally divided, and even the TNT set seemed split as to how to feel about it. At halftime, Charles Barkley decided he needed to start a dialogue about Fergie's anthem, while Shaq defended the singer.

CHARLES: "Can we talk about Fergie's National Anthem?"
SHAQ: "Oh, stop. Don't do that. Don't do that to my Fergie. Fergie, I love you. It was different, it was sexy, leave her alone."
CHARLES: "Damn right it was sexy, I need a cigarette after that one."
SHAQ: "It was different. Give it to me different in 2018. Whitney Houston did it different, too."
ERNIE: "Marvin Gaye did it different, here in L.A.."
CHARLES: "No, he did it right."
The anthem conversation continued with Charles chuckling as Shaq continued to implore him to "stay off my Fergie."

It was definitely different and unique and we all learned not to say anything negative to Shaq about Fergie ever.