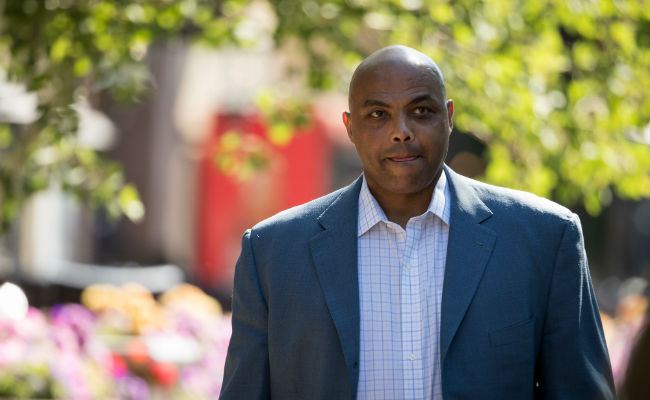 Charles Barkley simply doesn't understand why Kyrie Irving would want to leave LeBron James and the Cleveland Cavaliers behind. Barkley joined Game Time on NBA Network on Tuesday and talked about Irving's trade request and the current state of the NBA. He was not kind about either.
Barkley lamented the fact that many teams are wasting their time in the current basketball landscape, and said over and over again he doesn't understand why players these days need to play on their own team to be fulfilled.
https://twitter.com/NBAonTNT/status/895279758119809026
Barkley started by saying it's "silly" we are deciphering Tweets and Instagram videos where players appear to slight one another, but the larger problem is that a player like Kyrie Irving feels he needs to shine on his own team away from LeBron.
"I don't understand the Kyrie situation, like, you know this generation of players, you want to be on a good team, you want to play with other great players. There's a notion where you wanna be the man, I just think it's so stupid. If I got a chance to play with another great player, I wanna do that. I mean, the objective is to win. When he was on a bad team and he was the man I guarantee that wasn't a lot of fun for him."
"I just don't understand why these guys," Barkley said later. "If you get a chance to play with great players, that's half the battle."
Barkley did pull the former player card out here, saying that this generation of NBA players is different than those in the past.
"Pat Reilly had a great phrase. He called it 'voluntary cooperation.' You know, I'm pretty sure Magic could have scored more points. I'm pretty sure Kareem and Worthy and all those guys could have scored more points. But I guarantee they're probably happy they won all those championships together and they sacrificed a little bit of themselves."
Barkley continued this point by explaining why the current NBA bores him. He famously embraced hockey last postseason as the Golden State Warriors cruised through the postseason and past the Cavaliers in five games.
"It's not a lot of fun watching the NBA now the way things are going. And I'm not one of them old bitter guys, like, you know, you wanna play great players. You want to share the glory. You want to win. But man, right now there's only two or three, four maybe legitimate teams in the NBA. if you're not on one of those four or five teams you're really just wasting your time for like seven months. So I don't understand why you wouldn't want to play with LeBron. Listen, I'd want to play with LeBron now!"
Barkley makes a good point about wanting to get away from LeBron, and you can extrapolate his point about elite teams a bit to justify him calling it "stupid" for players to want to shine on their own. Irving leaving the Cavaliers makes them a less elite team, sure, but people are unconvinced that Kyrie can make a team good enough to compete for a title on his own. And until people decide he's worth the trade, he's going to be in Cleveland anyway.