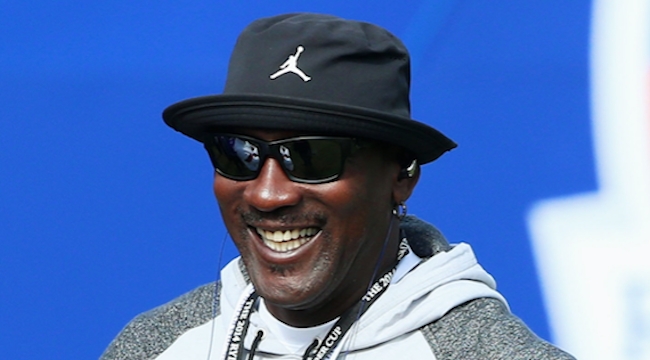 Nike will become the NBA's official uniform supplier next year. The 8-year deal was announced a few years back, and while adidas has been in charge of the NBA's unis for more than a decade, Nike's turn is on the horizon.
For 29 teams, the iconic swoosh will appear on their uniforms. For the Charlotte Hornets, a certain Jumpman logo will be on their jerseys. That's right – according to an innocuous line in a press release, Michael Jordan's team will get to wear Jordan Brand gear.
The release was titled "Hornets Sports & Entertainment Announces Plans to Switch Locations of Spectrum Center Box Office and Hornets Fan Shop." It seems kinda bland, right? Well, that's until we get to this little nugget.

The re-opening of the Hornets Fan Shop will coincide with the launch of the team's new Jordan Brand uniforms as Nike becomes the NBA's uniform provider beginning this season. The Hornets will be the only team in the NBA wearing Jordan Brand uniforms, and with the agreement taking effect, the Hornets Fan Shop will have even more of the popular Jordan Brand Hornets merchandise than it has had previously.
Buried five paragraphs into a press release about the team's fan shop, the Hornets announced that they'll be an outlier of sorts when the new unis come to town.
Sure, Jordan Brand is a Nike subsidiary, but it'll still be a way for Charlotte to differentiate themselves during Nike's contract with the league. Plus, in my humble opinion, the Jordan Brand logo is way cooler than the Nike swoosh, so they'll have that going for them.
Sometimes, it pays to be on the team that's owned by Michael Jordan.