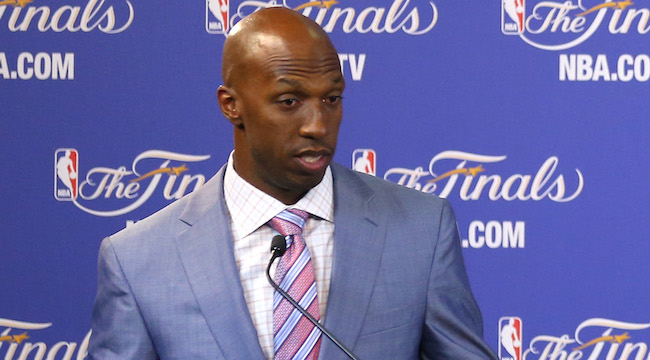 The Cleveland Cavaliers continued what is already a wild NBA offseason by dropping a bomb on Monday evening. Cavs owner Dan Gilbert announced that the team would be parting ways with GM David Griffin, who was the architect of Cleveland's title run in 2016 and a widely respected front office head in league circles.
Now, Gilbert is reportedly moving on to a specific target to lead his team's front office: Former NBA All-Star and current ESPN analyst Chauncey Billups.

Adrian Wojnarowski of The Vertical also reports that Billups already has a relationship with both head coach Tyronn Lue and Gilbert himself.
Earlier in the offseason, Billups was rumored to be a candidate for the Atlanta Hawks general manager position that later went to former Warriors executive Travis Schlenk. With that in mind, his name does not come completely out of left field but the speed in which Billups' name was reported is certainly eye-opening at the very least. Plus when you consider that Billups has no front office experience, and you recall that the Cavaliers were reportedly working to put together a trade for Jimmy Butler earlier today, targeting the former Pistons star is something of a surprise.
In the end, the Cavaliers are in a very difficult spot. LeBron James is set to hit free agency in 12 months and Cleveland has an uphill climb to chase down the Golden State Warriors at the top of the NBA heap. Griffin was reportedly working on high-end trade targets until the final hours of his reign and, if Billups is the next person in the role, his marching orders will be interesting to follow.