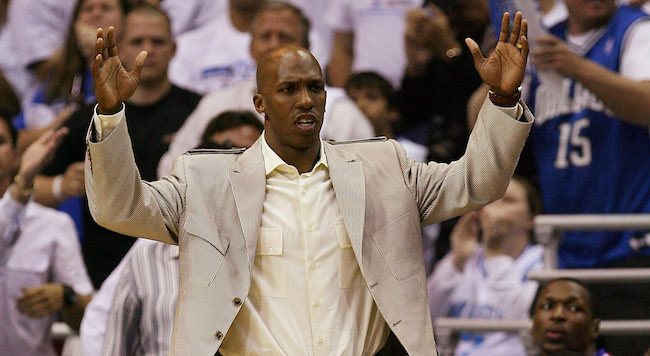 Chauncey Billups made his BIG3 debut on Sunday afternoon in Charlotte after skipping the first week while mulling over the Cavaliers' offer to become their new president of basketball operations. Billups said he was still making his decision and that he wanted to run a team, but wasn't sure the Cavs job was the right opportunity.
On Monday, Billups finally made his decision and, according to ESPN's Adrian Wojnarowski, pulled out of the running for the Cavs job, leaving Cleveland scrambling to figure out what Plan B should be.
Billups released a statement to ESPN regarding his decision not to take the Cavaliers' job.
"I have great respect for Dan Gilbert and the Cleveland Cavaliers, and I greatly appreciate the discussions we had regarding their organization," Billups told ESPN. "As I have conveyed before, ultimately I would like to lead a team's basketball operation and be a part of a successful franchise. But presently, the timing just isn't right to delve into that role in Cleveland. In the meantime, I will continue to focus on broadcasting and my other business endeavors."
The "timing" portion of that statement would seem to indicate that there's some concern for Billups about what is coming in the near future for the Cavaliers. There are also reports that the offer from Cleveland was not very strong (between $2 and $3 million, per Cleveland.com's Joe Vardon), and according to Jeff Zillgitt of USA Today, Billups received a raise from ESPN to help keep him on TV and out of the Cavs' front office.

Billups was Cleveland's top choice from the beginning when they let David Griffin's contract run out without re-signing him, but the former Pistons star apparently wasn't too thrilled about jumping into what could very quickly become a sinking ship for his first front office job. With LeBron James potentially leaving next summer, the Cavs could find themselves in a difficult position, and Billups is probably wise to be wary of that as he tries to figure out what his first foray into the NBA front office should be.
A front office career can end very quickly, and if Billups were to fail in Cleveland in his first job it would become more difficult to land jobs in a similar position. The problem the Cavaliers face is finding someone willing to take on that risk and also taking the small amount of money that Dan Gilbert is willing to offer for a front office position. The best candidate on the front office market currently is the guy they just let go, so the options for Cleveland may be limited.