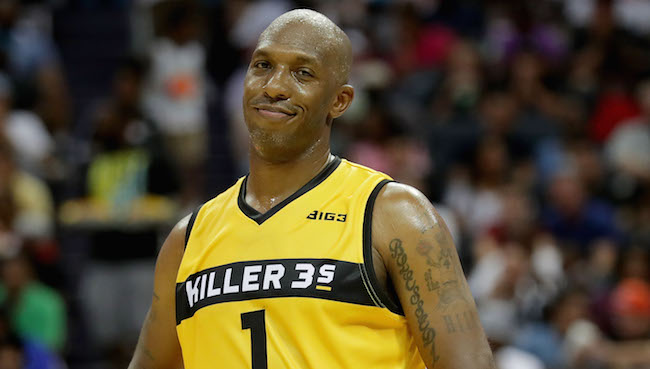 When the Cavaliers fired David Griffin as their general manager there was only one candidate they were interested in bringing in to replace him. That man was Chauncey Billups, former Pistons star and current ESPN analyst, but after weeks of the two parties having discussions, Billups decided to stick with his job at ESPN and playing in the BIG3 rather than take over the reigning Eastern Conference champs.
It was a curious decision that surprised many people, but after news came out Kyrie Irving had requested a trade this summer, it's looking more and more like Billups made the right choice to steer clear. As for how much Billups knew about the Irving situation, it seems like he knew an awful lot long before it became public knowledge.
On the Vic Lombardi Show on Altitude Sports 950 AM in Denver, Billups revealed the reasons why he turned down the Cleveland Cavaliers GM position. Key among them was the Cavaliers lack of trade assets in case Billups had to rebuild after LeBron James leaves next season and his knowledge of Kyrie's situation.

"I didn't talk to LeBron until after [turning down the job]," said Billups. "I deliberately did that because I'm going into a situation [the Cavaliers GM position] because I want to. But LeBron potentially leaving didn't bother me. When you have an opportunity to really put something together and really put your imprint on it, rebuilding is a beautiful thing, if they're going to have the patience with you. What bothered me more than if LeBron left or not was that I didn't think they had great assets if you have to do a rebuild, so it was more that than LeBron."
When asked about the Kyrie Irving trade request, Billups revealed that there was a potential rift in the Cavs for a while.
"It didn't really surprise me, as they were doing their due diligence on me, I was doing the same thing," said Billups. "I knew so much about the situation that the rest of the world doesn't know, but that's unfortunate man because he's such a special talent. And so much of what's he's been able to accomplish on the floor, he's been a beneficiary of LeBron James."
Billups also gave his thoughts on Kyrie trade request, which confuse him like most others, and explained why he would be slightly bothered if he were a GM attempting to trade for him.
"That would be alarming to me if I were a team looking to get him," said Billups If it's all about winning, I mean you got a chance to win every single year, and not only that, you getting everything you want. You getting all the shots you want, you playing for a great coach who's letting you go to work, [the] game's on the line they're coming to you, you playing on TV every week, to me I don't get it, I just don't get it."
It's clear that Billups' research into the Cavs had shown him that there was a potentially explosive situation within the organization and that there was a very real chance that he could be placed in charge of a rebuild without James or Irving very quickly. As he put so bluntly, the Cavs don't have much in the way of assets and he didn't want his first job to be a failure. Right now, he looks pretty smart and can watch how Koby Altman handles the position from a distance.