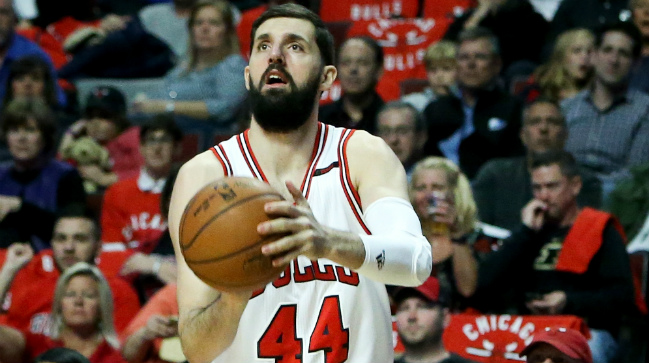 It must be tough being associated with the 2017 Chicago Bulls. First, the team went through a massive makeover in the offseason, jettisoning Dwyane Wade, Jimmy Butler, and Rajon Rondo in an attempt to get younger. Then a fight between Bobby Portis and Nikola Mirotic happened right before the season, putting a dark cloud over things before the year even began.
Portis was suspended by the team for eight games, while Mirotic had to have facial surgery to correct damage from the fight. It got so bad in the Windy City, it was revealed that Mirotic would be fine with a trade.
The sordid saga continued on Wednesday as the Chicago Sun-Times reports that Bulls players have made a decision between which guy they want to keep around. The report states that Mirotic had a growing sense of entitlement that has turned off teammates and they've simply had enough of the drama. Moreover, Mirotic's ultimatum that the front office trade either Portis or himself turned off whomever was left in his corner.

According to at least two players, the ultimatum issued by Nikola Mirotic and his camp that either he or Bobby Portis must go is carrying zero weight. If anything, it has further entrenched Portis with his teammates, with one telling the Sun-Times, "This is Niko's problem now.''
As for Portis, the third-year player returned from his suspension Tuesday to drop a team high 21 points and 13 rebounds in a five-point loss to the Raptors. If Portis continues this pace, pairing him with Lauri Markkanen would give Chicago a formidable duo in the frontcourt.
At the end of the day, one can only hope that there's a peaceful resolution to this conflict and that things can get back to normal for the Bulls.
(Via Chicago Sun-Times)