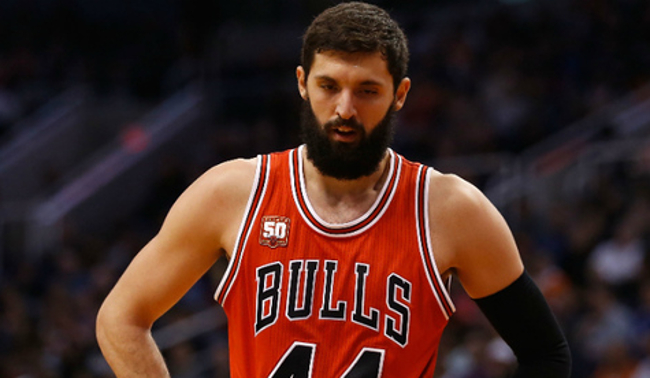 While many teams are nearing Christmas Day setting their sights on the postseason and a potential run at the Golden State Warriors, the Chicago Bulls are looking toward the future. That long view started well before the season began when Chicago traded Jimmy Butler on the night of the NBA Draft and bought out Dwyane Wade before the season started.
Bulls vice president John Paxson and general manager Gar Forman are apparently being tasked with the rebuild whether Bulls fans like it or not. And that rebuild continues into this season, as the team is reportedly looking to move veteran assets in an effort to get young talent on the roster for the coming years.
Placed prominently in a Chicago Tribune story about Chicago's surprising win over Boston on Monday is a tidbit about how basically every major contributor in that win is a potential trade target.

Nikola Mirotic and Robin Lopez are both reportedly on the trade block after the two combined for 47 points in the win over Boston.
According to one Eastern Conference executive and one Western Conference executive, the Bulls have made preliminary inquiries on Mirotic's value, along with Robin Lopez's. The Bulls, who are under the salary-cap floor, are seeking to add future assets in terms of draft picks without taking on long-term contracts.
It seemed inevitable that Mirotic was going to hit the trade block at some point, while Lopez is the type of veteran whose contract — which expires at the end of next season — doesn't help the team as it wants to rebuild. It's clear that the Bulls are committed to tearing it down to the studs, even if they can find a win or two in the short term.