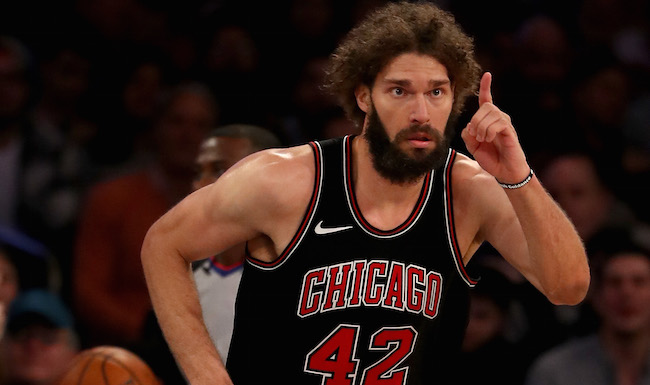 The Chicago Bulls have lost six in a row and are slowly but surely working their way back to the bottom of the Eastern Conference standings. Their quest for the most ping-pong balls heats up as we've crossed the midway point of the season.
The first step in rebuilding the tank that had fallen apart in December was to trade away Nikola Mirotic, with whom the Bulls had become way too good over a stretch where they went 10-2. They accomplished that feat as Mirotic has been dealt to New Orleans for Omer Asik's albatross of a contract, a pair of expiring veterans in Tony Allen and Jameer Nelson and a first round pick.
Allen and Nelson haven't been released yet, but that's not because they're part of the Bulls' plan for this season. Instead, they figure to be part of other deals Chicago will try to make as they look to further sell off veterans to teams holding out playoff hopes.

According to K.C. Johnson of the Chicago Tribune, the Bulls are shopping Allen and Nelson along with veteran center Robin Lopez and 25-year-old point guard Jerian Grant.
In fact, with league sources indicating that talks centered on Robin Lopez have intensified and also that the Bulls and Thunder have discussed at least Tony Allen's expiring contract, management will be busy between now and Thursday's trade deadline.

…

It's obvious the Bulls are keeping the expiring deals of Nelson and Allen in play as part of larger packages. Sources have indicated for weeks that Jerian Grant also is available.
This is what the Bulls should be doing, but in a market full of sellers but few buyers, it's going to be very interesting to see what kind of value they can recoup for those veterans. Allen to the Thunder has made all the sense in the world since the Mirotic trade went down, considering Oklahoma City is desperate for a wing defender following Andre Roberson's injury. While Allen isn't the player he once was in Memphis, if he gets healthy he could give OKC some help in limited minutes.
With Lopez, who makes an average of $14 million this season and next season, the Bulls could flip the reliable center to a contender in exchange for a bad contract and a pick considering they have significant space to take on such a deal, as they did with Asik.