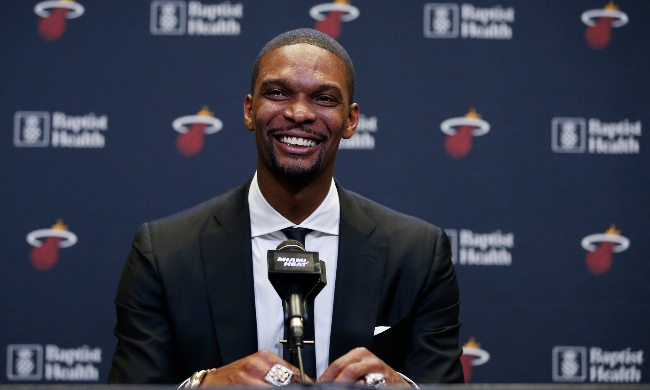 The Miami Heat held a 51-42 lead over the Orlando Magic at halftime of Tuesday night's game. While there are playoff ramifications involved in that contest, the eyes of the NBA world were on the halftime festivities, as two-time NBA champion big man Chris Bosh was honored with a jersey retirement by his former team.
First, the Heat presented a moving tribute video to honor Bosh's contributions to the organization and the city.
From there, Bosh was greeted with a raucous ovation from the Miami faithful as he was introduced.
Before the retirement ceremony even commenced, the city itself got involved with an impressive official proclamation to recognize Bosh.
Finally, the final commemoration arrived, with Bosh's No. 4 ascending to the rafters amid pyrotechnics and all kinds of fanfare.

Old friend and future Hall of Fame inductee Dwyane Wade — who will see his jersey join Bosh's sooner rather than later — also joined in the fun, paying tribute to Bosh with light-hearted sentiment after Bosh addressed him with his own comments.
Pat Riley also honored Bosh as a "lifer for the Miami Heat."
All told, it was a night befitting of the 11-time All-Star's contributions, and Bosh's No. 4 jersey will appropriately hang in the rafters as a reminder of his greatness (and that of the team) for all to see.