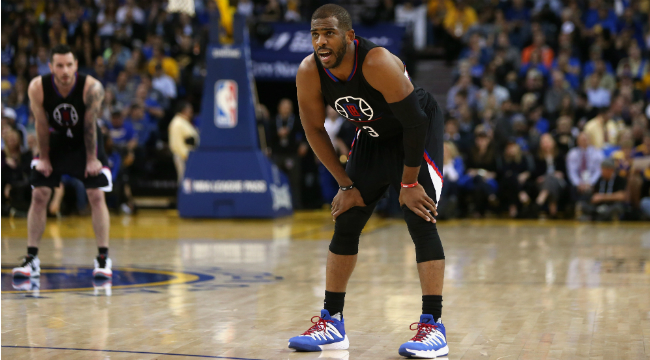 Another presumed member of the USA Basketball team has dropped out of consideration for the 2016 Olympics. First, it was Anthony Davis, who'll be rehabbing from knee surgery, and now Chris Paul has taken his name off the list, as he announced to Lee Jenkins of Sports Illustrated.
Approaching 31 years old, Paul is no longer a spring chicken, but he's still one of the very best point guards in the game and presumably has years of effectiveness left. But as he told Jenkins, his priorities are beginning to shift towards his family in the offseason as his kids grow.
"Just a few days ago, Little Chris asked me, 'Daddy, will you play in the Olympics again?'" Paul said. "Part of me wanted to say yes, because he's never been part of it. But I told him, 'I want to spend more time with you.'" Paul, a fixture at his son's Little League complex and basketball gym even during the NBA season, opted to stay home.
CP3 also said he heard his "body telling [him] that I could use the time," which is understandable for a guy who's had to carry the Clippers for half the season in the wake of Blake Griffin's injury on Christmas Day. CP3 was a shoo-in to make the team before he withdrew his name, which means that a spot has opened up on the coveted Olympics roster. Point guard is quite possibly the most competitive position on the squad, and now a guy like John Wall has a much easier path to the team. Damian Lillard, who initially didn't even make the 30-man pool, might even have a chance to make the squad.
Although Paul will be sorely missed, especially by his close friend LeBron James, the caliber of the names discussed to replace him reinforce just how stacked Team USA remains. They remain the odds-on favorite to take gold in Rio.
(Via Sports Illustrated)