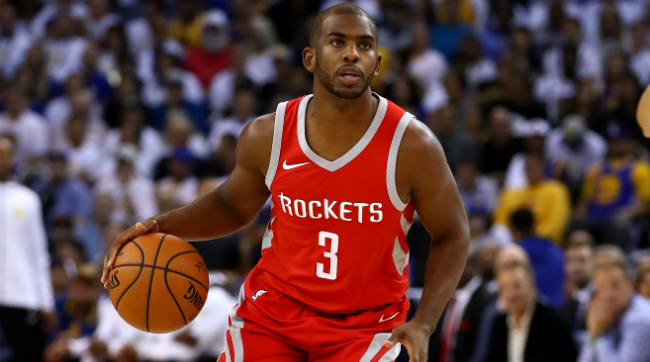 We're essentially one regular season through the Chris Paul era in Houston, and it's hard to say that the experiment has been anything other than a success. Sure, the Rockets will ultimately be judged on their playoff performance, namely if they're able to win a championship, but the first act of the Paul era has gone according to plan.
Despite this, the very start of Paul's time as a Rocket wasn't especially great. We don't mean the fact that he suffered an injury in his Houston debut that cost him 14 games, but rather, right after he was traded from the Clippers, when Paul was so nervous that he lost his lunch at a photoshoot.
Paul sat down with Sarah Berger of CNBC and explained that the concept of uprooting his family after six years in Los Angeles really got to him one day after the trade became official.
"Everyone always thinks us athletes, we've always got it together. That's a lie," Paul says, according to CNBC. "I was throwing up at [a] photo shoot. I was out there taking pictures and I was like, 'Give me a second.' Boom. I ran out, threw up. Boom. Came back and acted like I had just taken a phone call."
Again, everything has worked out swimmingly so far for Paul during his tenure in the Lone Star State, but it's still fascinating to see that the concept of switching teams impacted him this way.