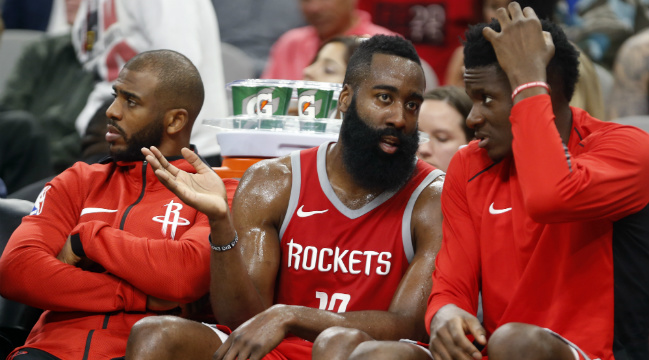 The Houston Rockets went down to the Golden State Warriors in the playoffs for the second year in a row, even as Kevin Durant missed time with an injury. The failure of a team built to beat the Warriors has led to another offseason full of tension.
Contract extension talks between head coach Mike D'Antoni and the Rockets front office have been contentious and ultimately hit a dead end. General manager Daryl Morey removed five members of D'Antoni's coaching staff despite D'Antoni's objections. And the relationship between the Rockets two stars, James Harden and Chris Paul, appears to be rapidly deteriorating.
There is major "friction" between Paul and Harden, per a report in ESPN, much of it stemming from Harden's isolation-heavy style of play and Paul's desire for Harden to run more set plays.
Paul pushed for more plays and sets in the Houston offense, more screening and deception, despite Harden being in the process of putting together a historically dominant individual offensive season.

"Chris wants to coach James," says a source familiar with the stars' dynamic. "James looks at him like, 'You can't even beat your man. Just shut up and watch me.'"

According to sources, Paul was also frustrated by what he perceived as Harden's tendency to ignore unglamorous details that impact winning — such as moving when he gives up the ball to help spacing — and wasn't shy about expressing those concerns.
Paul's frustration with Harden's ball dominance has led the point guard to "cherish" the time he gets to play while Harden rests, per ESPN. On multiple occasions, Paul has apparently yelled at D'Antoni to keep Harden on the bench for longer than usual when he's been running the second unit.
The Western Conference looks to be as open as it's ever been with injuries to Klay Thompson and free agency questions surrounding the Golden State Warriors. With the amount of drama happening in Houston, it remains to be seen whether the Rockets can put aside their difference and take advantage of it.