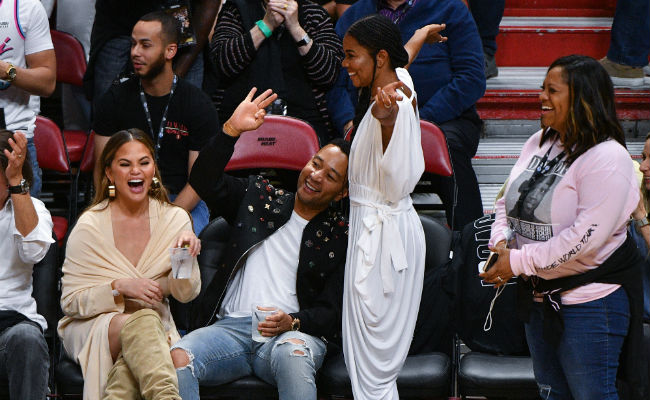 Dwyane Wade's final home game in Miami was an event to remember on Tuesday night. It was also a bit messy for those sitting courtside. Wade had 30 points in his last ever game in Miami, and the crowd loved the blowout win as much as Wade's offensive explosion.
But perhaps the biggest splash of the night came when Wade crashed into John Legend and Chrissy Teigen sitting courtside, spraying Legend's drink all over the couple.
The Miami Herald later tweeted out a photo of the incident, tagging Teigen and asking her if she wants a copy of the shot of her and John Legend getting smushed in the front row.

Ever online, Teigen responded to the tweet and called it a "Renaissance painting" with a laughing emoji.
Seriously, it didn't seem to bother the couple much that Wade wasted what was a perfectly good cocktail in the heat of the game.

Legend later tweeted a video of his dampened face with a laughing Tiegen, holding up what appears to be a gin and tonic and saying that he "Still got my drink."
It's a hilarious footnote to a night that was everything Heat fans could have hoped for from Wade, who went off when given extensive time on the court in his final home game.
But it's clear that it wasn't without some slip ups. After the game, Wade tried to jump on the announcers table to address the home crowd and promptly fell down there, too.