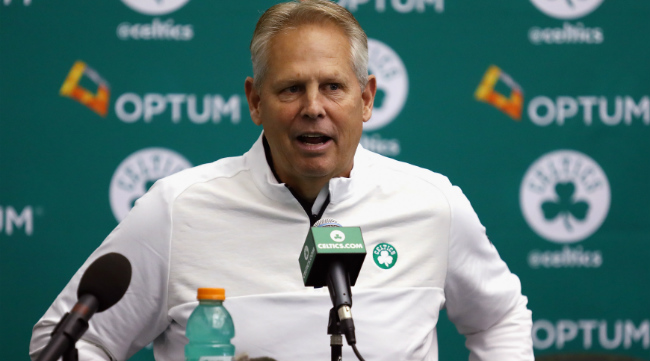 No individual thing looms larger as the Cleveland Cavaliers find themselves down 2-0 to the Boston Celtics than the Kyrie Irving trade. While Irving is celebrating on the sidelines with his teammates during the Eastern Conference Finals tilt, the Cavaliers look like a team that are firmly on the ropes with the series shifting to Cleveland.
The two most notable players the Cavaliers got for Irving — Isaiah Thomas and Jae Crowder — were moved at the trade deadline. Thomas' replacements (Jordan Clarkson, Larry Nance) haven't done much in the series, while the players Cleveland got in the Crowder deal have been arguably their worst player this postseason (Rodney Hood) and George Hill, who has eight total points and one assist in two games against Boston.
The third player in the Irving deal, Ante Zizic, has seen three minutes of mop up action against the Celtics. The most valuable piece the team acquired, Brooklyn's unprotected first-round 2018 pick, can't help Cleveland now, partly because it's a draft pick and partly because the Cavaliers decided to hold onto it at the deadline instead of moving it for someone like DeAndre Jordan.
Sure, Irving is on the sideline due to knee surgery, but there's a major "what if?" hanging over Cleveland right now. We know that LeBron James wasn't a fan of the deal, and apparently, an unnamed Cavs player was frustrated earlier this season with how Celtics GM Danny Ainge stole Irving from under their nose.

Jason Lloyd of The Athletic brings word of an incident from the regular season after the Cavaliers found themselves on the receiving end of a loss. After the game, one player gave a NSFW take on the trade as a whole.
5. The toxicity level was so high at one point during this season in Hiroshima that one Cavs player turned and looked at me after one of many particularly ugly winter losses.

6. "Danny Ainge is a f*cking thief," he said. No explanation needed.
There appeared to be some serious acrimony in Cleveland at midseason with frustration abound in the locker room. In retrospect, Ainge swindled newly-minted GM Koby Altman with the deal, as he managed to both improve his team and critically weaken his single-biggest challenger. If you're on the Cavaliers, it's no surprise that would make you a little upset with the man calling the shots in Boston.
(Via The Athletic)