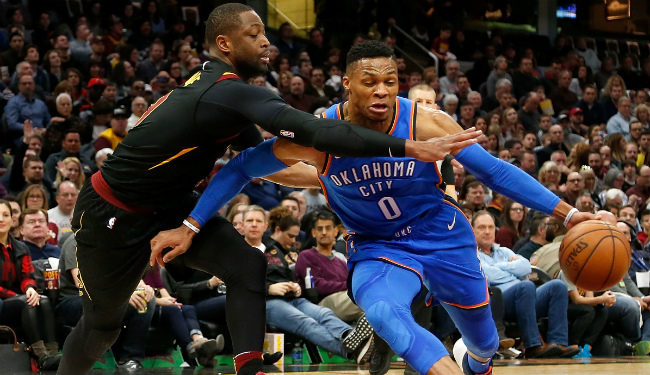 A lot has been written and said over the last few days regarding the Cleveland Cavaliers' defense, which has been among the worst in the NBA so far this season. The team had a chance to send a message on Saturday afternoon during a nationally televised game against the Oklahoma City Thunder, and while it did, there is a zero percent chance that it's one that anyone in Cleveland wanted to send.
Oklahoma City absolutely throttled the Cavaliers, walking out of Quicken Loans Arena with a 148-124 win. It is almost impressive for a team to score 124 points and get completely run out of the gym, but somehow, Cleveland's defense was unable to keep the Thunder from doing anything.
In fact, this performance tied an unfortunate piece of history for the franchise.
https://twitter.com/mcten/status/954851379851472896
Andre Roberson had eight points for Oklahoma City. He was the only Thunder starter to not score at least 23 points. Paul George had 36 points and seven rebounds, Carmelo Anthony registered 29 points and 10 rebounds, Steven Adams scored 25 points (on 12-for-13 shooting) and 10 rebounds, and Russell Westbrook matched 23 points with a whopping 20 assists. There was just nothing that the Cavaliers could do against the Thunder's starting five.
As a team, Oklahoma City got basically whatever it wanted. The team went 58-for-100 from the field, becoming the second team this season to attempt at least 100 shots in a game, and connected on 14 of their 30 attempts from three. It was a comprehensive beatdown by a Thunder, which are now on a four-game winning streak.
While not to take anything away from Oklahoma City, though, the story of this game is the egg that Cleveland's defense laid. This has been a recurring problem for the team this season and, while the Cavaliers have had plenty of subpar defensive performances on the year, this one takes the cake. With about a million rumors swirling regarding how Cleveland will handle the upcoming trade deadline, this is the kind of performance that can cause Koby Altman and Co. to look at the entire roster a little more critically.
Will that mean that the Cavaliers will, say, part with the Brooklyn Nets' 2018 first-round pick with the hopes of finding some defensive reinforcements? Who knows. But more so than any other game this season, Saturday afternoon showed that this Cleveland squad's defensive woes are the kind of thing that could prevent them from winning a championship.