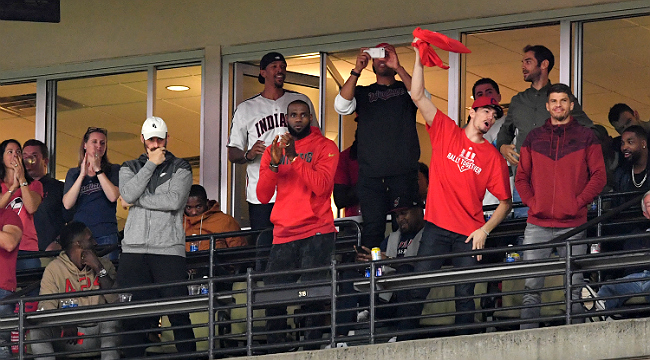 The Cleveland Indians drew first blood in their American League Division Series against the New York Yankees on Thursday night. Behind a strong 6 2/3 innings from Trevor Bauer, the Tribe took down the Yankees, 4-0. It was a dominant performance by the Indians, one which featured Cleveland's other dominant team with championship aspirations in attendance.
Led by noted Yankee fan LeBron James, a number of Cavaliers players took the trip to Progressive Field. As you can see in the picture above, Kevin Love, Kay Felder, Channing Frye, LeBron, Richard Jefferson, Cedi Osman, Jose Calderon, Kyle Korver, and Tristan Thompson were all in the box. Not pictured up there were J.R. Smith and Dwyane Wade, who were both there, as evidenced by this Instagram post by Smith.
Isaiah Thomas also tagged along, and while he might be new to the Cleveland sports scene, the former Celtics star is already getting used to rooting for the Tribe.
Team bonding is always fun and important, but doing it during a postseason sporting event seems like an especially good time. There's no word on what the Cavs plan to do on Friday afternoon, when the Indians and the Yankees will play Game 2 of their series. Seeing as how Cy Young frontrunner Corey Kluber is on the bump for Cleveland, it will definitely be a must-watch game.