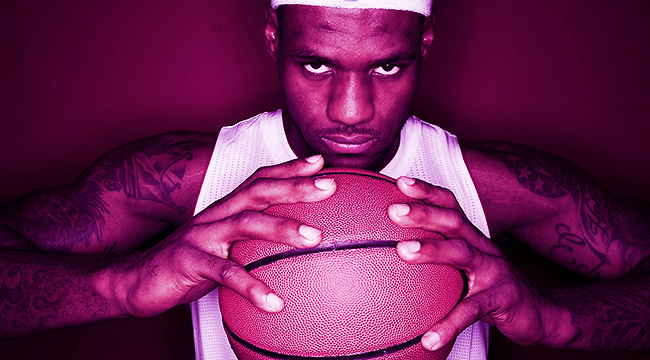 Calling the 2017-18 campaign an important one for the Cleveland Cavaliers is a tremendous understatement. Next year has the potential to shape the next few years of the franchise, as free agency looms for LeBron James (once again) next summer. If he leaves, it'd be a massive blow to the team for a bevy of reasons, chief among them that Kyrie Irving would apparently also want to leave and because it would mean the best player in franchise history would have left twice because he didn't think the team could help him win a championship.
All of this is to say that the Cavaliers' front office should come together and map out a strategy on how they can make sure next year's doomsday scenario doesn't come true. Fortunately for them, we are here to help, as we have mapped out a foolproof five-step plan that is sure to convince LeBron to stay in Cleveland for a while.
STEP 1: Bring back David Griffin
It is really stunning that the Cavaliers didn't more or less give Griffin a blank check. Forget the whole "he's close with LeBron" thing, the fact that the franchise didn't bring back the first general manager to ever bring them a championship is unfathomable.
Griffin is a smart, savvy GM who knows how to build a roster around its biggest strength. In the case of the Cavaliers, this meant building a roster around LeBron's ability to find shooters and Irving's ability to make plays. He acquired Kevin Love, paid Tristan Thompson, and acquired guys like J.R. Smith and Kyle Korver, who are deadly when they get a little space from behind the arc.
After getting turned down by Chauncey Billups — which is probably a blessing in disguise, because while Billups could end up being a very good executive, the Cavaliers are not in a position to be his first job — Cavs owner Dan Gilbert should strongly consider circling back around to Griffin. He won't, but he should. Even if this doesn't lead to LeBron sticking around, at least it puts the team in a position to have someone smart running the show after him.

STEP 2: Bring in Bron's Pals
This means go out and acquire two players: Dwyane Wade and Carmelo Anthony. Wade seems like he should be a fairly straightforward case — if his camp and the Bulls can agree on a buyout, Wade becomes a free agent, and then it's all about whether the Cavs have the ability to sign him. Wade would also fix the single biggest need that Cleveland has in that he'd be able to keep the offense from going stagnant when LeBron is off the floor.
Anthony would help with this even more. While his production has slowed down in recent years, he's still a deadly scorer who would help keep Cleveland's offense from slowing down to a grinding halt in situations where that sometimes happens — namely when LeBron is out and at the end of games when the plan is usually "LeBron or Kyrie does something."
The problem with getting Anthony, though, is that he would come at a much bigger cost than Wade. The Knicks have made it clear that they want to get something back for their star forward, although it's entirely possible that changes depending on who they hire to take over for Phil Jackson. But if they still want a trade, do the Cavs swap, say, Thompson and Iman Shumpert for him? Does replacing what Thompson does (rebounding, defense, can guard bigs) with what Anthony does (scoring and the ability to rebound) help them in their pursuit of a ring?
It's a risk worth taking at this point. Letting Anthony be the second or third option would put him in a role similar to the one he's had at the Olympics, where he has played the best basketball of his life and is the most decorated player in American history. Really, as long as it wouldn't cost them Love, moving some pieces for Anthony would be a huge win.
Can a rotation of Irving-Wade-LeBron-Anthony-Love with Korver, Smith, and whatever ring-chasing veterans Cleveland acquires beat the Warriors? There's only one way to find out!

STEP 3: Have Dan Gilbert buy a nice, three-bedroom condominium in the Ibiza, then fly there and never come back
This isn't to say that Gilbert should sell the team — he is a very rich man whose checkbook is something that will come in handy. It's just that, you know, he has this nasty habit of shooting himself in the foot. Hell, it took reconciling with LeBron to convince him to come back to Cleveland, and even that goodwill seems like it's perilously close to being gone due to the Griffin debacle. Besides, Ibiza is lovely. Some may even call it the Detroit of the Mediterranean. After spending his professional life in the Rust Belt, I am sure he'd love it there.
STEP 4: Let LeBron, Kyrie, and Love rest
One thing Cleveland figured out last season was that the regular season doesn't matter all that much, because once you get to the postseason, having LeBron should be good enough to get you through the East. Next year, the team should start taking this to something of an extremely and let LeBron rest with some level of frequency.
Last season, LeBron led the NBA in minutes per game and was 10th in minutes played. Sure, he only appeared in 74 games, but that's still a crazy factoid considering last season was his 14th NBA campaign. You also saw the toll that playing so much took on his body in the Finals, especially later in games where he would run out of gas from playing so much.
Cleveland has to make sure that LeBron is as fresh as possible heading into the postseason, especially for another potential Finals matchup with the Warriors. And while we're at it, letting Irving and Love rest fairly frequently would be pretty good, too. Irving was 10th in the NBA in minutes per game last season, while Love dealt with lingering injury issues.
Really, the Cavaliers can afford to let their big three rest as much as possible, especially if they can manage to bring in someone like Wade or Anthony. As they showed last year, when it comes to the Eastern Conference, they can win on anyone's home floor. What matters is making it to the Finals and being as fresh as possible when they meet up with the Warriors again.

STEP 5: At least put up a fight
Some people think the reason LeBron wants to leave is the Cavaliers aren't ever going to beat the Warriors. This probably isn't 100 percent true. In all honesty, while LeBron would be frustrated with a loss to Golden State in the Finals next year, he probably wouldn't be so mad that he splits town if the Cavs at least make it respectable.
Putting aside his personal aspirations which may be best suited if he leaves Cleveland for a second, LeBron is driven to win as many championships as he possibly can before he retires. But he is also a really smart guy and knows that it's not worth leaving for perceived greener pastures if his best chance to win a few more rings is in Cleveland.
That would start by, at the bare minimum, not getting run off the floor in the Finals. Winning a ring would be even better, obviously, but just taking that next step and making it so the next [however many] rings end up in Cleveland could make a serious impact on James.
There's also the simple fact that the gap between Cleveland and the rest of the Eastern Conference is rather large, barring the Celtics making a move for a superstar, while the Western Conference is going to be a bloodbath for the foreseeable future. This is the most obvious thing that has ever been written, but in order to win a ring, you have to, you know, make it to the Finals.
This path will exist for Cleveland for however long LeBron is in Cleveland, especially if the Cavs keep their current core and can add one of the aforementioned LeBron pals. Does that path exist in the West if he joins, say, a Lakers roster built around himself, Paul George, Brandon Ingram, and Lonzo Ball? What about a Clippers team with Blake Griffin, one of DeAndre Jordan/Danilo Gallinari, and the pieces the team acquired in the Chris Paul trade?
Of course all of this can go out the window if LeBron decides it's important to prepare for life after basketball and the most important thing is to be in a city that lets him do that.
But Cleveland's best chance at keeping him around is by reminding him that the Cavs are his best chance to start winning rings. If they follow our simple 5-step guide, that shouldn't be an issue.