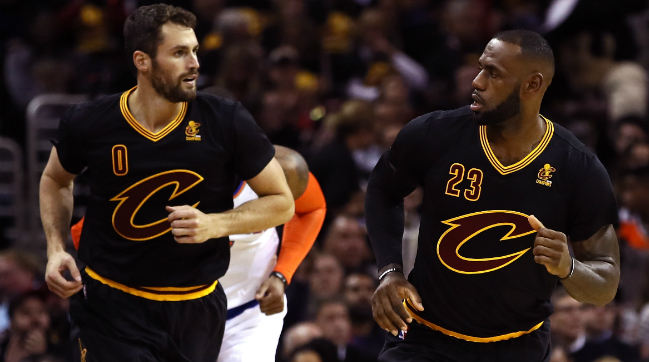 Athletes are some of the most superstitious people on earth. There are hundreds upon hundreds of stories out there about athletes doing weird things with the hope that it'll lead to them doing their job at the highest level.
The Cleveland Cavaliers are proof of this. More specifically, LeBron James is a pretty superstitious guy in that he doesn't like using Twitter during the postseason. Each of the last four years, whenever the Playoffs roll around, LeBron activates "Zero Dark Thirty-23" mode (it was called "Zero Dark Thirty-6" mode when he was with the Heat).
Just before midnight on Saturday, LeBron decided it was time to get into his zone.
This year was a little different, as he added art to his yearly tradition.
As for some other silly, superstitious things that the Cavs did to get into Playoff mode, there's some good news: Lil' Kev is back.
For the uninitiated, Lil' Kev was used as good luck in Cleveland's locker room during last year's run to a title. The fine folks at King James Gospel have the details.
Last season, Lil Kev was the symbol of unity, success and perseverance for the Cleveland Cavaliers as they entered the playoffs. A cut-out from a Tommy Bahama magazine, Lil Kev looks eerily like Kevin Love and that's what makes the magic work. Not only does it provide comedic relief for the group, a form of catharsis, but it's a trick the Cleveland Cavaliers play on their mind.

By focusing on Lil Kev, who is like the baby brother of the group, they're less apt to let their frustrations turn them against each other.
You may be thinking that this is all incredibly silly, and you would be correct. But LeBron has made it to the Finals in each of the last six years, and Cleveland won a ring last year after Lil' Kev came into the fold, so they must be doing something right.