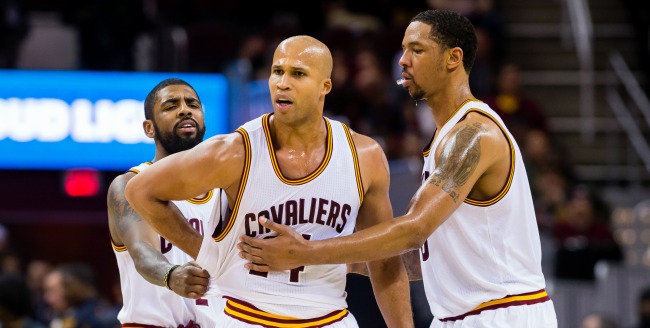 With Dan Gilbert not giving a new contract to former general manager David Griffin and Chauncey Billups choosing to not work for the team, this has truly been a peculiar offseason for the Cleveland Cavaliers. The ante has been upped in Cleveland recently thanks to Kyrie Irving's reportedly asking for a trade away from the Cavs.
Irving reportedly doesn't want to be the No. 2 guy in Cleveland anymore and wants to get out from under from the shadow of LeBron James. Unsurprisingly, James was "blindsided" by Irving's reported request but he isn't planning on getting involved in trade talks, despite a tweet that may have predicted his teammate's wish. James is dealing with the news though by listening to Meek Mill and posting a possible shot at Irving via his Instagram account.
Irving on the other hand, reportedly believes James leaked his trade request to the press. A request that reportedly includes only a select set of teams: The San Antonio Spurs, New York Knicks, Minnesota Timberwolves and Miami Heat. The Spurs and Knicks are the reported favorites to acquire Irving but Karl-Anthony Towns and Jimmy Butler are using social media to get the All-Star guard to Minnesota.
Overall though, Irving's request is still quite shocking, considering how the Cavs have played in the last three Finals and won a championship last year. This was a fact that an unnamed Cavs player brought up in a length ESPN report about Irving's request.

So who was this unnamed Cav? Who knows for sure but thanks to some brutal honesty on Twitter, we now know it wasn't Richard Jefferson or Channing Frye.
It actually doesn't matter who on the Cavs gave that quote to the media. It's not even really disparaging to Irving and plus, it is a really good point. The Cavs are one of the best teams in the league and are a perennial championship contender thanks to James and Irving.
Irving is of course, allowed to want to play elsewhere but considering Cleveland's recent success, it continues to be a real head scratching of a request by the Cavs All-Star guard.