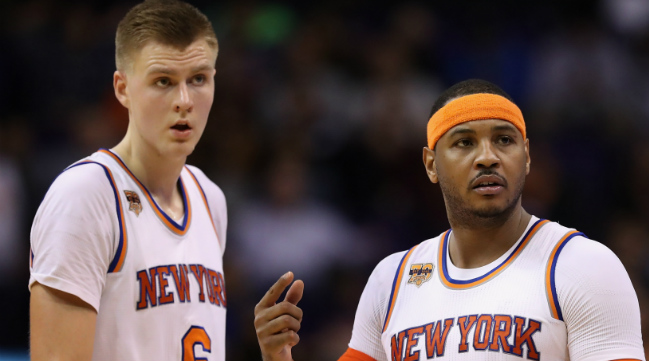 The Knicks are one of the more intriguing trade partners in a possible Kyrie Irving deal. Irving is from New Jersey, so a deal like this would send him home. Plus when Irving gave the Cavaliers a list of teams where he'd like to be traded, the Knicks made an appearance, and a report indicated that he really wants to get back to the tri-state area.
There's also the fact that the Knicks have two players who could potentially intrigue Cleveland: Carmelo Anthony and Kristaps Porzingis. The former is a disgruntled star who wants to be moved and is friends with LeBron James, the latter is a young stud who could be the face of the franchise should LeBron split town.
But as it turns out, the Cavaliers are only interested in one of these players. According to Terry Pluto of Cleveland.com, that player is Porzingis, and you can guess how likely the Knicks are to part ways with him.

Irving is from New Jersey and would love to play for the Knicks. It would give him the type of national profile he craves. The only player the Cavs would really want from New York in an Irving deal is Kristaps Porzingis. It's very unlikely the Knicks would part with their gifted 7-foot-3 center.
Pluto also argued that Anthony "should not be a focal point of any trade involving Irving," noting that he has a no-trade clause in his contract. Besides, reports in recent days indicate Anthony wants to become a Houston Rocket.
Acquiring Porzingis always seemed like a pipe dream for the Cavaliers — maybe it wouldn't be the case if Phil Jackson was still running the show in Manhattan and he was bumping heads with the Knicks' young star, but who knows.
In addition to his notes on the Knicks, Pluto pointed out that Denver and Phoenix are two potential destinations, with both squads unwilling to split with some of their young standouts — the Nuggets reportedly don't want to split with Jamal Murray or Gary Harris, while the Suns are still hesitant to part ways with Josh Jackson. And unsurprisingly, Devin Booker is "s close to untouchable as anyone on the Suns roster."
(Via Cleveland.com)