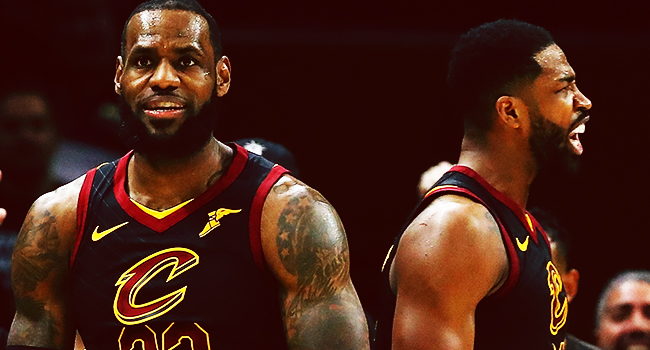 CLEVELAND — Strange things tend to happen in a Game 7. Some players elevate under the pressure of one game to define their season. Others crumble under the weight of knowing it all comes down to a 48-minute, win-or-go-home basketball game.
But sometimes, the strangest thing of all can be seeing a team do something that you've seen before. An issue for the Cleveland Cavaliers all season has been a lack of a rotation that felt cohesive, with LeBron James even saying after their Game 1 loss to the Indiana Pacers that the team's turmoil and roster turnover prevented them from being prepared for the playoffs.
So with a Game 7 that could, quite literally, decide the franchise's future if they lost, Tyronn Lue made a line-up change. With George Hill available but still nursing an injured back — he played 19 impressive minutes in the second half — Lue decided to go without a true point guard in his starting lineup. Jose Calderon was moved back to the bench and the Cavs rolled with as familiar a group as they can put together. This meant two things: LeBron would run the point (which he nominally does, because good things happen when LeBron has the basketball), and Tristan Thompson got inserted into the starting lineup for the first time in a month.
The group of James, Thompson, Kevin Love, Kyle Korver, and J.R. Smith rarely played with one another this season, taking the floor together for three minutes over two games during the regular season, per NBA.com. They also never took the floor together during the postseason, largely because Thompson barely played: He saw two minutes of action in Game 1, seven in Game 4, and 14 in Game 6.
But these are five players that are familiar with one another. Amid all the changes in Cleveland over the last few years, this lineup featured four guys who have been on the Cavs since at least the 2014-15 campaign and Korver, who joined the team at the trade deadline last season. The team's most used lineup during the 2016-17 postseason was James, Love, Smith, Thompson, and Kyrie Irving. Its fifth most-used group saw Korver in for Thompson. In sixth? Irving, James, Korver, Love, and Thompson on the floor instead of Smith.

For all the talk since the trade deadline of the impact of the four newest members of the Cavs, in the biggest moment they leaned on the group they knew they could trust. Lue went with the known commodity, in so much as Cleveland has one, and it worked as the Cavaliers picked up a 105-101 win over the pesky Pacers and won the series.
Not only did it work, but the story of the afternoon, outside of "LeBron James is good at going supernova in must-win games," was Thompson playing fantastic basketball. He had a double-double at halftime and ended the game with 15 points and 10 rebounds. The latter led the the Cavs (as did his five offensive boards), while the former was second on the team to only James.
After Cleveland's 18-point loss in Game 6, Thompson says he took it on himself to have a talk with James, Smith, and Love.
"We've been through this before," Thompson said. "We've been in Game 7s, we know what it takes. The new guys are gonna look at us, so we've gotta come out ready to play."
One day later and Thompson learned he was going to start. As he told the press after the game, he was in the midst of his daily weight room routing when Lue came up to him and told him the lineup change.
"I said 'say no more,'" Thompson said. "At the end of the day, we're all professionals and me and T-Lue, we've been through years together. So when my number's called, gotta be ready, be there for my guys, especially what's on the line, win or go home. So when he told me I'm starting, just locked in and said 'It's time to come up and step up.'"

Thompson managed to keep himself prepared for these kinds of moments, as he'd go through his routine in the weight room and play games of 4-on-4 and 5-on-5 to keep himself fresh in the event that his coach called on him in a big moment.
That moment came on Sunday afternoon. For Lue, getting that particular group on the floor was a matter of going "with the guy who's been here, who's been through it all, knows what it takes." This was something that James repeated when he met with the media after his coach.
"We started the game with a unit that we knew all five of us knew what we could get out of each other," James said. "We've been in the situation before, played in big games before, so that's comfort to start the game."
This was the a sign of continuity, something Cleveland had lacked all year. Lue was constantly tinkering with lineups for a myriad of reasons, but could never quite find one that consistently got the job done. But on Sunday, the Cavaliers didn't need a lineup that could consistently get the job done. It just had to be better for 48 minutes than the lineups thrown out by the Pacers, which happened.
Thompson played 23 total minutes in the first six games of the series. He played 35 in Game 7 and managed to do all the stuff you expect out of Thompson when he's in the game.
"That's the Tristan that we know, giving us extra possessions, catching the ball on rolls, finishing," James said. "Just his energy, his effort, that's how he's made his name in this league, by just being high motor and being able to outwork whoever's across from him."
For a team that has appeared to deal with lethargy this season — including losses of 34 and 18 points during their first series — getting Thompson's energy and motor into the lineup in a must-win game made all the sense in the world. Perhaps it'll be something Lue sticks with as Cleveland faces against Toronto, which starts a pair of bigs in Jonas Valanciunas and Serge Ibaka, but even if it's not, Thompson will be prepared to do whatever he needs to do if (and, based on how he played in Game 7, when) he's asked to contribute.
"At the end of the day," Thompson said, "when my number's called, I've gotta be there for my teammates, be ready to play, and I'm glad we got the win."