NOT FAR OUTSIDE CLEVELAND, Ohio — "To truly appreciate where we're going," one of my high school teachers said, "we have to understand where we've been."
At least that's what I think he said. I was in the back of the room, reading the sports page.
To make a long story a little shorter, I'm not old enough to remember the Browns winning the NFL championship in 1964, but my parents are. My grandparents remember the Indians winning the 1948 World Series, but I clearly don't. Michael Jordan and Earnest Byner made me cry because I was young, but I never felt decades of pain or tied my life goals to a Cleveland team finally winning a world championship.
I just kind of accepted it wasn't going to happen. You know how it goes. Fool me once, shame on you. Fool me seven or nine or 15 times and I just become numb to it.
We — Cleveland, Akron, everywhere within partying and rooting distance — live in a different time now. So completely, absurdly, and enormously different that on Tuesday night, the Indians are hosting a World Series game right next door to where the Cavs are holding a ring ceremony to celebrate last year's championship. If there were still sports pages to read in the back of history class, they'd wonder if they were reading fiction.
Believe it, baby. Cavs and the elusive banner at 7:30. Indians in Game 1 with their unquestioned ace on the bump at 8, and the best bullpen in baseball awaiting for anytime after around 9:15 or so.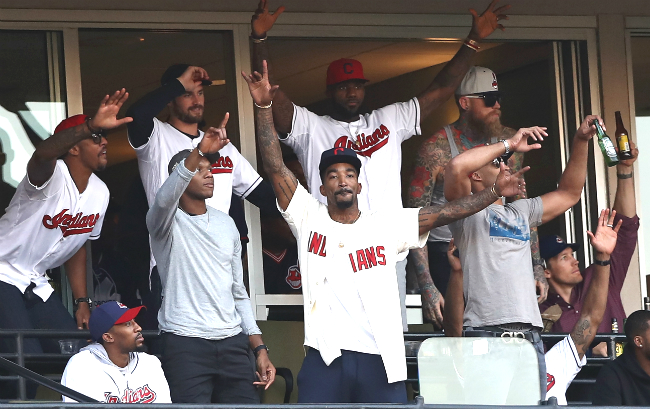 If you went back and found 17-year-old me and told him that a kid from a different part of Akron was going to complete the most complicated homecoming ever by helping the Cavs to an NBA title, and that the ring ceremony a few months later would be moved up 30 minutes by folks with common sense who didn't want it to interfere with the start of the World Series right next door, I'd call you absolutely crazy.
If you went back and told that to my then-17 year-old friends, they wouldn't hear you. They'd be busy crying over Jose Mesa.
There used to be a way these things went, and certainly a way they ended. You don't have to be from anywhere near here to know about The Drive, The Fumble, The Shot, the Browns moving to Baltimore, Mesa melting down or the King of Akron going on national TV and breaking up with Cleveland and the Cavs. I probably left a few out, and that's OK. It's all old news; way-way-way in the back of that old history book stuff.
Folks around here used to lie about being there for Len Barker's perfect game, for the infamous 10-cent Beer Night brawl, or just in general about being there for Indians games in the 1980s in the cavernous, crumbling Municipal stadium. Ex-Browns owner Art Modell lied about his intentions many times, none of which were as hurtful as the Ravens later winning a Super Bowl or the each "new" Browns administration lying about being the one to finally get it right. On the night LeBron left, Cavs owner Dan Gilbert told a tiny little lie in his unforgettable letter about the new Cavs winning a title before LeBron would. (Shockingly, Samardo Samuels and Dion Waiters did not deliver on Gilbert's promise.)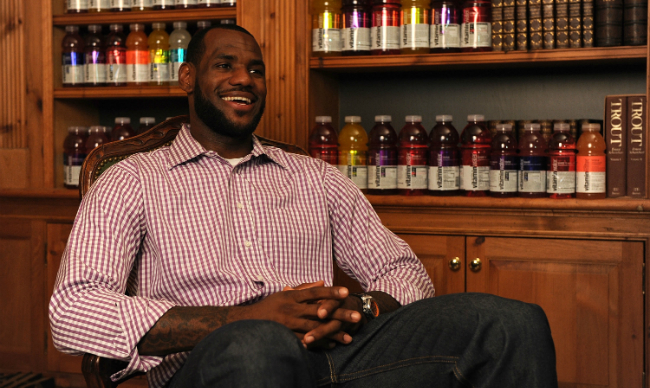 In a sign of how much things have changed, maybe the best lie of all was told last June by local sports radio host Anthony Lima, who falsely cited the Greater Cleveland Sports Commission in a tweet that said 1.3 million people showed up for the Cavs' championship parade. Other radio stations ran with it. Good Morning America ran with it. Athletes repeated it, in front of microphones and on their social media accounts. Eventually, adidas printed shirts with it.
Lima was not committing some crime against journalism or the good work the sports commission does. He had publicly stated his intentions to be the one who came up with the attendance number, and even announced he'd probably be fabricating it. Maybe no one listens to him — it's hard to blame them, really — but his made-for-radio stunt on a day that was so new and so foreign to Cleveland just seemed to fit.
He was simply saying that anything is possible. What's going on Tuesday night is proof that others — even a few short of 1.3 million — are starting to believe.
During his first stint with the Cavs, a much-younger LeBron James wore a Yankees hat to an Indians-Yankees playoff game. Insecure people threw a fit. Two weeks ago, LeBron addressed the crowd before an Indians-Red Sox game while wearing an Indians jersey. Twice a bunch of Cavs players have attended Indians games in a suite; once, TV cameras caught J.R. Smith drinking Jack Daniels right out of the bottle.
Smith, once banished to play basketball in China after a string of rather J.R. Smith-like occurrences, just signed a $57-million contract with the Cavs and almost immediately said he can't wait to put down roots in either Cleveland, Akron, or somewhere in between. LeBron isn't just getting all his friends paid. He's making Cleveland cool again.
Last week, Cleveland folks on Twitter were having a real argument about whether Charlie Sheen should be called upon to, in a Wild Thing jersey from "Major League," throw out the first pitch before Game 1 of the World Series, 30 or so minutes after a banner and ring ceremony right next door. That multiple major networks are swinging elbows and cashing in favors for prime real estate to broadcast from two major events at the same time on the same Cleveland streets Tuesday night is some hard-to-fathom stuff.
Did the Indians ever make SportsCenter from, say, 2000-13? Probably only when they were playing the Red Sox or Yankees.
Three years ago this week, the Cavs were preparing to begin a 33-win season, by far their best since LeBron departed in 2010. Four years ago the Indians sold their local TV network, generating enough instant cash to sign… Michael Bourn and Nick Swisher.
It's been a rough go, but suddenly LeBron and J.R. are showing up for Indians playoff games, and a destroyer of souls named Andrew Miller is striking out everyone he faces, and yet the Indians are still the underdog in the World Series, which is exactly the way they want it. Jay-Z is coming to Cleveland in a week or so for a concert in support of his preferred presidential candidate, and he already knows the way from the private airport because he's been a regular at Cavs games the last couple seasons. If you want to fight about any of this, UFC Heavyweight Champion Stipe Miocic is from here, too, and often shows up at the games.
It's really been one big-ass parade since June. And if you're planning to throw yourself in the middle of it Tuesday, get there early.